Popcorn sales are exploding. This long-standing cinema favourite has taken the bagged snacks category by storm with sales up a whopping 38.1% to £87.4m on volumes up 25.6% [IRI 52 w/e 6 Dec 2014] making it the fastest growing sub-category in bagged snacks.
This article is part of our Bagged Snacks Digital Feature 2015.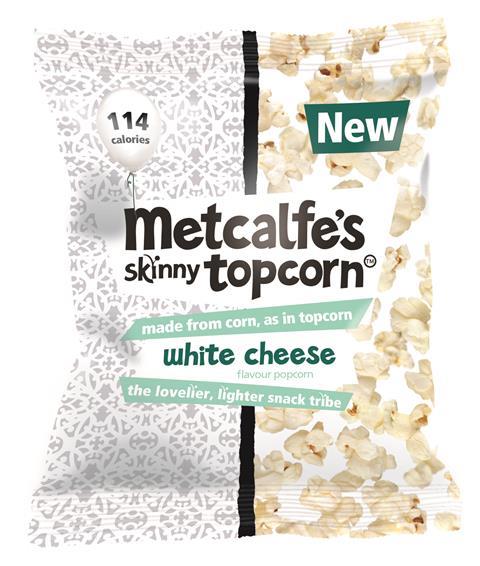 The average UK citizen now consumes nearly 5kgs of the stuff every year, according to Butterkist, but this is just a drop in the ocean compared to our American counterparts who munch through three times that. So what is driving this boom? And with 90% of Americans regularly buying popcorn compared to 40% of Brits, how much further can it grow?
Shedding its previously unhealthy image, popcorn has reinvented itself as a healthy and flavoursome snack but not all brands are marketing it this way. Some are playing the health card while others believe premium indulgence will drive sales.
Butterkist remains at the top of the leader board with sales of £35.1m (up 20.1%) with a 23.9% increase on volumes, despite a 3% average price drop. "The growth of the popcorn category has come from both penetration and frequency, with more people buying into popcorn and purchasing it more often," explains Anjna Mistry, senior brand manager at Butterkist. "Popcorn is now seen as a credible, mainstream snack alternative for a variety of occasions."
The brand is serious about the health benefits of its popcorn. Recent developments have seen Butterkist moving away from soya oil and replacing it with rapeseed oil, significantly reducing the saturated fat content. Calorie content is also clearly displayed on the front of its bags ranging from 100 to 136 calories per serving.
"Popcorn has always been a healthy snack, however, with the spotlight on health prevailing more than ever, brand manufacturers and certainly Butterkist have decided to shout about those inherent health attributes on the front of packs," Mistry adds.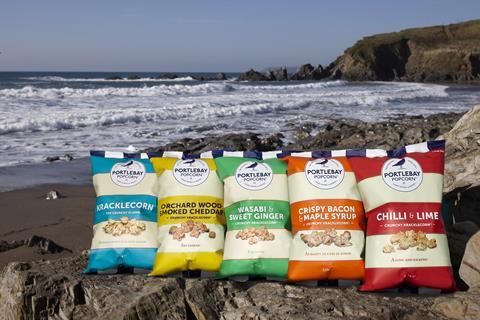 Metcalfe's Skinny, Tyrrells and Propercorn are all shouting about calories but Portlebay Popcorn is isn't – even though its products are in the same calorie range as that of its competitors. Instead, it is focusing on premiumisation and flavour innovation with maple syrup and bacon, lemon sherbet and orchard wood smoked cheddar among its offerings.
As a relatively new entrant to the market (Portlebay began trading in January 2013) it is growing in excess of 200% per year, according to founder Jonty White. And he doesn't expect the growth to slow down any time soon.
"Popcorn is definitely here to stay. It's a product that is different and has caught the attention of the consumer," White says. "In terms of flavour it is up to brands like us to innovate. As long as the innovation is done well and thoughtfully then I don't think the novelty of popcorn will wear off."
Premiumisation has its downsides though. Unlike the simple sweet and salt varieties available in cinemas, the invention of posh popcorn has affected margins bringing them in around the same level as those for crisps, claims Ryan Kohn, co-founder at Propercorn, who adds the brand saw a 300% increase in value to £6m in 2014.
"There's no incredible margin being made in popcorn," he says. "Our popcorn has to be made in a certain way with really high quality ingredients. For example the sour cream and chive flavour uses real crème fraiche and herbs."
Margins are squeezed further by the heavy promotional nature of the bagged snacks category as a whole, but this can be used to an advantage. "Promotions are key," says Max Rees, Metcalfe's sales director. "We have done them with all our retail partners and that has been crucial to the growth of the brand. The key thing for us is to get people to trial the new flavours."

As the weird and wonderful flavours help to drive new interest in popcorn, the staple flavours are also driving growth. Sweet (including toffee) is the nation's favourite with a 40% market share, according to Butterkist, which claims that combined sweet and salty bags are the fastest growing flavour increasing 114% year-on-year.
There are separate opportunities for sweet and savoury flavours based on occasions. Sweet, for example, could play a role in replacing confectionery at guilt lanes in supermarkets whereas savoury versions could find success in lunchtime meal deals as a replacement to crisps. Single serve bags drove growth in popcorn in 2014, with Propercorn predicting different formats such as sharing bags could further boost performance in 2015. Microwavable popcorn should not be forgotten, notes Butterkist, adding that it is the second bestselling format enjoying double digit growth.
Having enjoyed a 62.7% increase in value to £6.4m [IRI] on volumes up 60.7% Tyrrells will be supporting its popcorn with a new name and communications plan in 2015. "The support plan for our popcorn range will kick off early spring – our new designs will hit shelves supported by a consumer PR and trade campaign," says Jocelyn McNulty, Tyrells marketing director.
Plans are in place for new names, new flavours and new formats in 2015 so although we have a long way to go to catch up the Americans, it looks like popcorn sales aren't slowing down in the UK any time soon.