Brits have been pigging out on meat snacks over the past year. Sales have risen 2.8% on volumes up 8.2%, adding £3.3m to market value [IRI 52 w/e 5 December 2015].
And, though it remains a fraction of the size of meat snacks, pork scratchings are flying off shelves, with grocery sales up 13.2% on volumes up 10.8% - taking total value to £18.7m.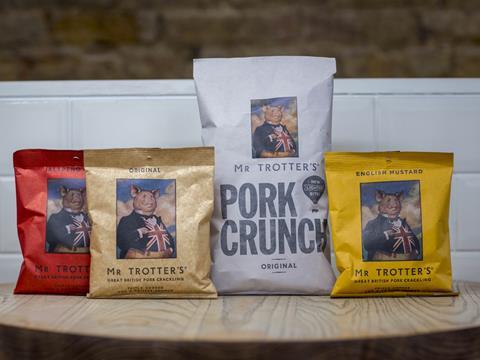 The top four brands are all in growth, with market leaders Mr Porky and The Real Pork Crackling Company gaining the most. Premium pork crackling brand Mr Trotter's, which is sold in Selfridges, Harvey Nichols and John Lewis, among others, believes this is due to the improved perception of pork scratchings in the market as a whole. This is, in part the brand believes, due to its premiumisation.
"We believe that this raised the bar considerably and as a result other producers in the market have moved along with this quality/British trend," says Graham Jebb, founding director of Mr Trotter's, which has recently gained listings with Ocado. "The consumer now has much more choice and a better choice offered in many more outlets than ever before, which has led to increasing sales."
Pork snack Peperami is also performing well with sales up 2.3% on volumes up 3.3%, but not quite as well as Mattessons. "We have increased our market share from 39.8% to 42.6% within the last year," explains Victoria Southern, Mattessons marketing manager.
The brand has been going after teenagers with Fridge Raiders and in 2015 claimed to be at the head of building new category, adult snacking, with innovations including Mattessons Savagers, Strip Sticks, Mediterranean Kitchen Bites and tertiary brand Meateors, which are collectively worth £2m.
"We have been driving channel expansion in order to ensure meat snacks are in the right areas of store for our target audience," adds Southern. "We have been working in partnership with retailers to merchandise meat snacks like Mattessons Fridge Raiders front of store, which has helped to drive single-pack purchases."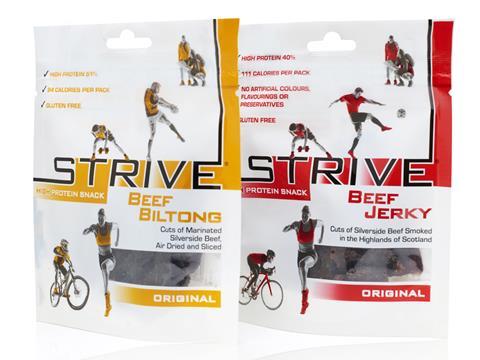 James Newitt, Meatsnacks Group MD, believes merchandising is a key part of the category's growth. "One of the reasons our brands are performing really well is that retailers are designating proper shelf space to beef jerky and biltong, creating a proper category around it, rather than being reliant on clip strips. We're seeing major retailers wake up and see it as a destination category."
Meatsnacks Group's Wild West beef jerky is up 8.6% on volumes up 2.3%. Hoping to build the category further, it has unveiled a new brand called Strive – The Ultimate High Protein Snack. It's available in jerky and biltong and is aimed at those leading active lifestyles.
Newitt claims meat snacks suffer from a 'blokey' image, meaning the health properties aren't always obvious to both male and female consumers, something he hopes Strive will address. Meatsnacks Group has other NPD in the pipeline for 2016, including gourmet recipes and softer eat products, set to launch soon.
In association with: