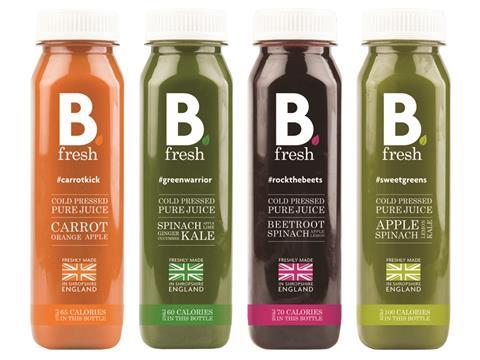 British cold-pressed juice brand B.Fresh has secured a second supermarket listing, with two products from the range hitting Sainsbury's shelves today.

The Greenwarrior and Carrotkick variants have gone on sale across 112 Sainsbury's convenience and city stores (rsp £2.50), three months after B.Fresh launched into the fruit and vegetable aisles at Asda stores.

"We are very excited to have secured two national listings in such a short space of time," said B.Fresh founder Philip Maddocks.

"Sainsbury's is a huge step for us and we hope that consumers enjoy the great taste of B.Fresh and make them a part of their everyday routines."

Maddocks, a Shropshire farmer who supplies the mults with salad leaf, whole-head lettuce and spinach, launched B.Fresh in November 2014 after noticing a lack of British-produced cold-pressed juices.

The entire B.Fresh range is produced in a bespoke juicing facility on Maddocks' farm using whole fruits and vegetables sourced from the farm itself or other British producers.