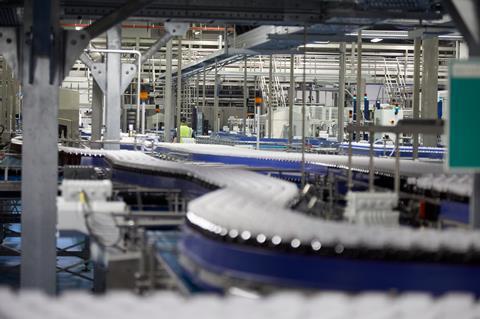 Britvic has signed a major deal with packaging supplier Esterform Packaging it claims will help address "significant" rPET supply issues in the UK.
It will make Esterform its "preferred supplier" of rPET, with two of Britvic's brands due to switch to 100% rPET packaging as a result next year – though Britvic did not reveal which brands this would be.
It will also see Britvic plough £5m into the construction of a new rPET manufacturing facility powered with 100% renewable energy at Esterform's site in Sherburn-in-Elmet, Leeds, which it plans to have up and running by the fourth quarter of 2020.
There was "a significant industry issue in accessing the quantity and quality of food-grade rPET required" to satisfy current demand, said Britvic, with insufficient capacity currently available in the UK.
"This deal, therefore, provides Britvic with secure access to UK-sourced rPET and gives Esterform the security to invest in a major capital project that will enhance the UK's efforts to create a circular economy."
Its sustainability director Trystan Farnworth – who was promoted into the role earlier this year – added sourcing rPet from this country rather than abroad had "clear benefits" for Britvic's carbon footprint.
Britvic will also add a recycling message to all consumer and trade advertisements.
The news marks the latest in a series of moves towards greater sustainability from the drinks giant, which has removed more than 1,400 tonnes of primary plastic from its supply chain since 2017.
It follows a shake-up of Britvic's senior team: the business this month promoted Phil Sanders from at home commercial director to out of home commercial director, and promoted Ben Parker, who previously managed its relationship with Tesco, to Sanders' prior position.