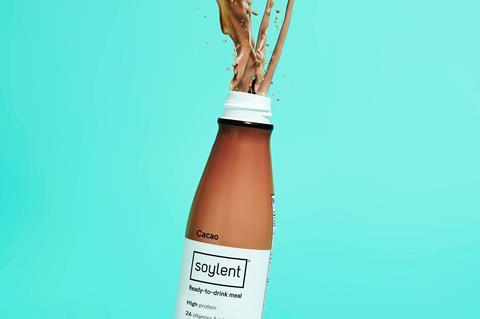 US grocery sensation Soylent is set to make its UK high street debut next month, as it also expands its meal replacement portfolio for British shoppers.

The Californian brand will roll its core drink into WH Smith, seven months after first becoming available in the UK via Amazon - targeted at professionals under 35.

From 22 April, it will be in chillers in selected WH Smith stores, with a particular eye on commuters in urban areas. WH Smith will stock Cacao and Café Mocha variants of Soylent's chilled RTD, which is formulated to be "a complete meal, packed with 20g of protein and 26 vitamins and minerals".

Imported from the US, the drink (rsp: £3.49-£3.99/414ml) was unlike functional rivals such as protein shakes in that it was meant to be consumed instead of food, not as well as, said Soylent senior VP of sales Melody Conner. Even the brand's nearest rival, Huel, was "more of a gym brand" than a meal replacement, she added.

With its ambition to be in "all channels of trade", Soylent is currently discussing expansion into grocery and convenience, though foodservice outlets were "a little bit harder in terms of route to market" Conner said.

The news comes about six months after Soylent arrived in the UK via Amazon, where the "engineered nutrition" brand sells its drinks at £39.99 per case (12x414ml). The online retail giant is the exclusive UK location for Soylent's Original RTD variant, and will be the location for Soylent's next UK product. A drink powder will be available from next month in Original and Cacao (rsp: £26), with each 425g pouch enough for 10 servings.

Soylent began in 2013 with a direct-to-consumer model, following a crowdfunding push that generated pre-orders of almost $1.5m (£1.2m). It has since secured total funding of $74.5m (£58.6m), with annual sales estimated at $10m (£7.9m). In 2018, the brand gained a listing with Walmart, having already been available in major retail chains such as 7-11 and Kroger.