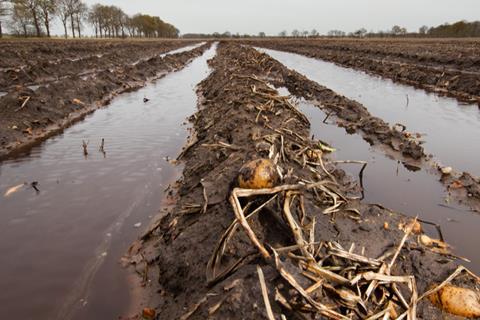 Potato harvesting has once again been affected by wet weather, with widespread rainfall in recent weeks hampering grower efforts to get the crop out of the ground.
AHDB reported that while 77% of the total Great Britain potato area had been lifted by 20 October, some growers were having to contend with waterlogged fields after last month's storms. Progress was particularly slow in the north east and north west, where 40% and 59% of the crop respectively had been lifted.
According to the Met Office, the UK experienced the fifth-wettest October since 1862 last month. It included the wettest day on record for average rainfall (31.7mm) on 3 October.
Key processors McCain and Lamb Weston both spoke of challenging conditions in East Anglia, parts of which saw close to 200% of their usual average rainfall in October.
But despite these difficulties, both companies said their growers had managed to already get most of the crop out of the ground.
"Despite the climatic challenges and added impact of Covid-19, we're pleased that our farmers have already been able to harvest over 90% of the crop," said McCain GB & Ireland agriculture director Daniel Metheringham.
"This year, I am confident our farmers will harvest the majority of potatoes and whilst yields are marginally down, the quality of the crop is good."
Lamb Weston said most of its farmers had completed lifting with the exception of some parts of Norfolk where they were expecting to have to wait "several days" for the land to dry out.
Meanwhile, grower and processor Branston said this year's harvest had gone "pretty well" compared with the previous two years.
"There are some great-quality crops and overall, it's been a fairly good season. The majority of this year's crop destined for table potatoes has been harvested, which is well ahead of last year when the wet weather delayed things significantly," explained MD James Truscott.
It marks a massive contrast to autumn 2019, when persistent wet weather left fields submerged in many areas of the country.
It led to one of the worst quality harvests in decades with some 5% of the crop left to rot in the ground. 2019's poor harvest came off the back of one of the smallest potato crops in recent times in 2018 caused by the combined impact of the 'Beast from the East' and a summer-long heatwave.