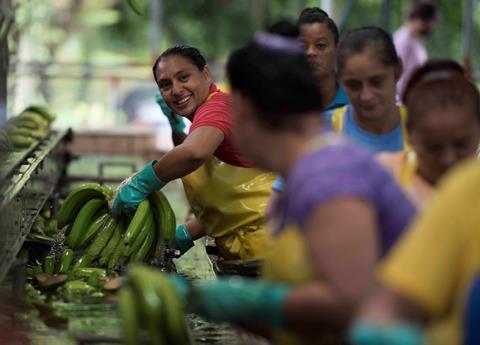 Irish fruit importer Fyffes has marked International Women's Day with a €30,000 (£25,000) donation to charities that support female victims of violence, including Women's Aid Ireland, England and Scotland.
Gender is one of Fyffes' four priority focus areas for its donation allocations, along with nutrition, climate change resilience and education.
"I am very pleased our European businesses have chosen to concentrate their focus on this very important issue facing women across the world today," said Stella Davis, head of Fyffes' Gender Equality Programme.
"The money will be used very well, including funding hotlines in multiple languages to assist migrant women who are particularly vulnerable, and providing immediate funds for women and their families who often have no possessions when they walk away from an abusive relationship."
Fyffes has also published its Global Anti-Violence and Harassment Policy recognising the ILO Convention No 190, which was adopted by the International Labour Organisation in June 2019 and outlines the right of all workers to be free from violence and harassment.
The business added it aimed to provide Gender Equality Programme training to 100% of people at its sites in Latin America by 2025 and 50% of its supplier sites by 2030, and to eradicate the company's gender pay gap by 2030.
In Latin America, where most of Fyffes' produce is grown, the business is focusing on supporting and promoting the inclusion of women into the workforce as equal partners with men and creating a more inclusive workplace, following its Human Rights Impact Assessment in late 2019 and 2020.
The company launched its Gender Equality Programme based on Business for Social Responsibility (BSR)'s HERProject in Honduras and Costa Rica in 2019.
Last week, Fyffes' second human rights impact assessment was published, which revealed Fyffes has made overall progress in its human rights risk mitigation efforts.
"We now have two years' worth of human rights due diligence undertaken, which has helped inform our sustainability targets and our human rights risks mitigation and action plan," said Julie Cournoyer, global director of sustainability at Fyffes. "It is satisfying to see the improvements being made across the business to achieve these targets and deliver on our commitments for our people and the communities surrounding our operations and supply chain."