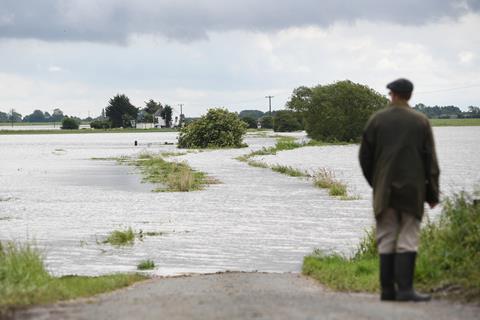 Brassica and pea growers in Lincolnshire are counting the cost after more than a month's worth of rain fell on their crops in a single day last week.
Severe flooding – described by the Environment Agency as an "unprecedented event" – led the river Steeping to burst its banks on 14 June, with the town of Wainfleet badly hit and hundreds of homes evacuated.
Growers had to endure more unseasonal bad weather this week as they assessed the damage to their crops and the impact it would have on their customers, said the Brassica Growers Association.
Crops waiting to be harvested had been deluged with up to 80mm of rain in a single day, the trade body said, during a period when they expected just 50mm for the entire month. Lincolnshire produces about 30% of all field-scale veg grown in the UK.
"Some farms recorded the equivalent of three months of rain in a week. This has turned fields into quagmires, creating nightmare conditions for the harvest teams. Staff struggled through mud, up to a foot deep, to harvest crops and fulfil orders," the BGA added.
Grower TH Clements described the conditions as the "Lincolnshire Lakes", while Fen Peas said the flooding had been "devastating and soul destroying".
"Growers are used to dealing with the weather, but the conditions last week were well outside what we are used to," explained a BGA spokesman.
"We've seen vast amounts of rain, and more this week, so it will take at least a fortnight to evaluate the knock-on effect of the floods," added British Growers Association CEO Jack Ward.
He warned harvesting crops from waterlogged fields would continue to be challenging for "several weeks", while Lincolnshire's output would likely be significantly hit.
Growers were now also at a critical stage for planting crops for harvest in winter and spring 2020, with the impact of the rains potentially having a knock-on effect on future availability, he said.
This year's rains are in marked contrast to last year's heatwave. "There is no doubt we are seeing much more volatile weather patterns in recent years, which all adds to the demands of growing high quality produce," added the BGA.