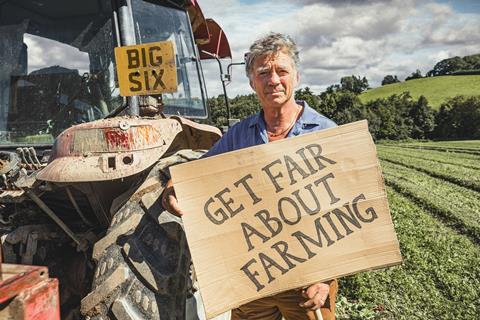 Half of British fruit & veg farmers have said it is likely they will go out of business in the next 12 months, new research from Riverford Organic Farmers has revealed.
A survey by the organic veg box business of 100 growers in July found that 75% said supermarket behaviour was a leading concern within the industry.
Supermarkets and their buyers were accused of not paying on time, pursuing cheaper food alternatives from overseas and cancelling or changing orders at the last minute, with farmers also criticising fruit & veg specifications for being too hard and complex.
"British agriculture is on its knees, and that's why most small family farms think they're not going to be in business in the next generation," said Riverford founder Guy Singh-Watson. "Is that what we want from our countryside? Is that what we want from our food system? Is that what we want from farmers? Farmers need to be treated fairly – they need some commitment from supermarkets."
According to the Riverford research, one in five farmers (22%) said they had suffered a wasted crop due to cancelled orders from supermarkets. Twenty-nine per cent had also received a cancelled order from supermarkets with no explanation, and just under a third (29%) had seen supermarkets failing to pay them within 30 days.
And 70% of farmers surveyed agreed it would have a positive impact if buyers paid the amount initially agreed and did not then slash prices after the initial agreement. A further 64% agreed it would have a positive impact if buyers bought everything they committed to buy.
Dear supermarkets, we need to get fair about farming...
We've written an open letter to the CEOS of @Tesco @sainsburys @asda @Morrisons @AldiUK @LidlGB calling for change to save British family farms.
Find out more and sign our petition at https://t.co/Y0G59PsrgY pic.twitter.com/thDLalJ4fz

— Riverford (@Riverford) September 19, 2023
Riverford's findings follow research by The Grocer in April which revealed that while on-shelf prices for apples had increased by as much as 46% in the mults, growers had only seen an average price increase of 1%. At the time, British Apples & Pears executive chair Ali Capper, said: "UK apple growing just isn't profitable at the moment. In fact, for most it's lossmaking."
Meanwhile, research by the NFU last November found that many growers were now "walking away" from retail contracts, cutting production by as much as 20% or diversifying into other more profitable crops such as oilseed rape and wheat due to the fact they were sill not receiving sufficient returns from soaring food price inflation.
It comes as over 100 food industry figures, including Hugh Fearnley-Whittingstall, Chris Packham and Deborah Meaden, this week signed an open letter addressed to the CEOs of the nation's big six supermarkets, which called on them to treat farmers more fairly.
The letter is part of a new Get Fair About Farming campaign, launched by Riverford, calling for supermarkets to adopt better business practices to safeguard the future of British fruit & veg farming, starting with committing to Riverford's Fair to Farmers charter principles.
These principles include: paying what you agreed to pay, buying what you committed to buy, agreeing on fair specifications, committing for the long term and paying on time.
The charter is designed to lay down ethical business practices among growers and farmers, to ensure a fair deal is always achieved.
"Sustainable trading relationships are based on co-operation, good communication and trust as much as competition," said Singh-Watson. "A brutal, short-term focus on annual price negotiations is supporting supermarket margins while destroying British farming along with the landscape, wildlife and rural communities it once supported."
Riverford has also launched a petition calling on the government to intervene and protect Britain's food system from further collapse.