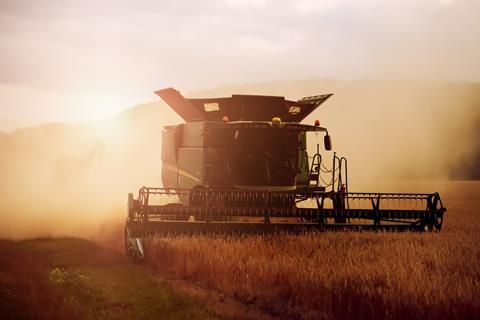 Food and drink leaders have come together to urge governments to avoid imposing trade bans that impede the flow of critical food supplies.
Last week Romania banned all wheat exports outside of the EU, joining Russia, Ukraine and Kazakhstan among others in placing limits on agricultural trade.
France, meanwhile, is seeking to reduce imports in a move seen by some as 'soft protectionism'.
In an open letter signed on Thursday by 32 trade associations including the Food and Drink Federation (FDF), the Federation of Wholesale Distributors (FWD) and the Food and Drink Exporters Association (FDEA), industry leaders called on the UK and other developed nations "to lead the way and reject moves towards protectionism".
"Essential movements of ingredients and raw materials must continue so that we can supply consumers across the UK," reads the letter.
They highlight British farmers who rely on imported feed for their livestock, manufacturers who export to grow their businesses, and restaurants and retailers who address seasonality and customer demand by accessing global foods all year round.
"Now more than ever, it is critical that we keep imports and exports of food and drink flowing," said the letter. "Our industry cannot operate in isolation if we are to continue providing world-leading quality, choice and value for money."
The introduction of trade bans on food is a sharp reminder of 2007-08 when export bans led to a global food shortage and price spikes.
But a key difference today is that shortages are not a problem. Global rice stocks are nearing record highs, according to the UN Food and Agriculture Organization, with wheat supplies also looking strong.
Vietnam gave cause for optimism last week by lifting its ban on rice exports with immediate effect, in a move many hope is the first sign of alleviating tensions and reduced escalation.
The letter's signatories are:
Ian Wright, CEO at Food and Drink Federation
Robert Sheasby, CEO at Agricultural Industries Confederation (AIC)
David Camp, CEO at Association of Labour Providers (ALP)
Emma McClarkin, CEO at British Beer and Pub Association (BBPA)
Paul Rooke, Executive Director at British Coffee Association (BCA)
Walter Anzer, Director General at British Food Importers & Distributors Association and the Vinegar Brewers Federation
Richard Harrow, CEO at British Frozen Food Federation (BFFF)
Philip Law, Director General at British Plastics Federation (BPF)
Gavin Partington, Director General at British Soft Drinks Association (BSDA)
Declan O'Brien, Director General at British Specialist Nutrition Association (BSNA)
Parminder Kaur, Chair of Council for Responsible Nutrition UK (CRN UK)
Gordon Polson, CEO at Federation of Bakers (FOB)
James Bielby, CEO at Federation of Wholesale Distributors (FWD)
John Whitehead, Director at Food and Drink Exporters Association (FDEA)
Pete Robertson, Director at Food and Drink Federation Cymru (FDF Cymru)
David Thomson, CEO at Food and Drink Federation Scotland (FDF Scotland)
Andy Richardson, Chair of Food and Drink Wales Industry Board
Nigel Jenney, CEO at Fresh Produce Consortium (FPC)
Graham Keen, Executive Director at Health Food Manufacturers' Association (HFMA)
Katie Doherty, CEO at International Meat Trade Association (IMTA)
Michael Bell, Executive Director at Northern Ireland Food and Drink Association (NIFDA)
Dick Searle, CEO at Packaging Federation (PF)
Michelle Riddalls, CEO at Proprietary Association of Great Britain (PAGB)
Karen Betts, CEO at Scotch Whisky Association (SWA)
James Withers, CEO at Scotland Food & Drink
Simon Cripps, Director at Seasoning and Spice Association (SSA)
Angela Bowden, Secretary General at Seed Crushers and Oil Producers Association (SCOPA)
Michael Bellingham, CEO at Pet Food Manufacturers' Association (PFMA)
James Smith, Chairman of UK Flavour Association
Sharon Hall, CEO at UK Tea and Infusions Association (UKTIA)
Kate Nicholls, CEO at UKHospitality
Miles Beale, CEO at Wine and Spirit Trade Association (WSTA)