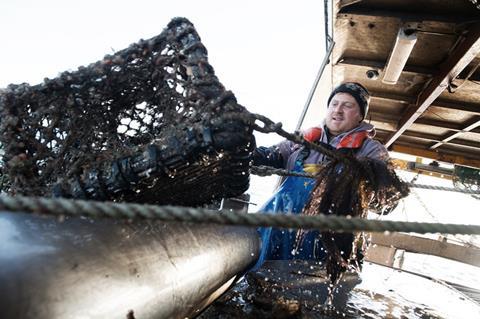 Britain's smaller fishing crews have urged the government to find a compromise in EU trade talks or risk exacerbating their already precarious situation.
Fishermen have urged the government to avoid tariffs and further disruption to the industry as it reels from the effects of the pandemic.
The industry has already suffered job losses and business closures this year as Covid-19 devastated its access to foreign markets.
Although fishermen have accepted that border checks and documentations are now inevitable, they warned against introducing tariffs.
"Tariffs are the implication for no deal now and that will be serious," said James Cook, MD at fish exporter DR Collin & Son, although he believes much of the worst impacts are already locked in. "There are huge implications for everyone even if there is a deal done now. There is no way a deal is going to change the scenario we're facing."
On top of the inevitable rise in bureaucracy, Cook fears that a nationwide shortage of sterilised pallets could worsen the situation further.
DR Collin & Son sends up to five lorries of seafood to Europe a day and, while it has sought to develop alternative markets for its goods, "it's hard to find markets for that overnight given it's taken us over 40 years to establish these markets within Europe".
Fishing rights remain a major hurdle in reaching an EU trade deal. Some fishermen believe their voices have been sidelined in the Brexit debate as the negotiations have focused on quotas and fishing access, an issue that does not affect the smaller inshore fleets.
Nevertheless, Jerry Percy, CEO of the New Under Ten Fishermen's Association, said he appreciates the challenge facing British negotiators.
In a letter to chief UK negotiator David Frost in July, Percy said he recognised the "difficult path to regaining much of [the fishing opportunities] lost after joining the EU…but at the same time seeking to ensure European markets are still available".
He warned that a failure to strike a compromise could leave French fishermen unsatisfied and force a backlash that harms British businesses.
"French fishermen, like French farmers, tend to take the law into their own hands if they're not happy with something," said Percy. "They know very well that it would take nearly nothing to make ports from Calais to Boulogne untenable for UK transport. Park a few tractors or a few boats in the harbour and it grinds to a halt very quickly."
Alistair Sinclair, national co-ordinator of the Scottish Creel Fishermen's Federation, agreed. "We don't know how bolshy the French fishermen are going to get if they don't have the access that is currently enjoyed right now."
But with shellfish's short shelf life leaving little margin for delay, any such action could be devastating. "We rely on our product getting to the other side of the channel in as good a condition as it could possibly be, still alive and kicking. So if there's any delays whatsoever, we could be out there fishing for nothing."