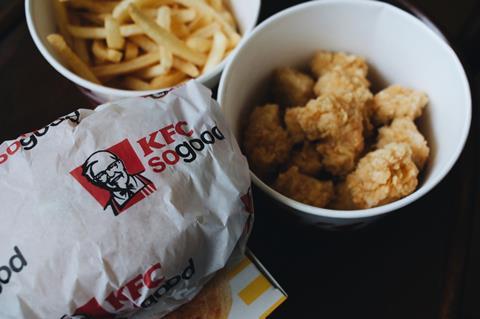 KFC UK & Ireland has signed up to the 'Better Chicken Commitment' – a set of standards that aims to improve chicken welfare in supply chains.
It will see the fast food giant adopt a set of six criteria agreed by 28 animal protection charities from across Europe. Its divisions in Germany, the Netherlands, Belgium and Sweden have also signed up, which means the move could affect around 72 million chickens.
By 2026, signatories to the commitment are required to provide more space and improved enrichment provision for all their chickens. They must also use healthier, slower-growing breeds.
KFC, which says it purchases around 4% of the UK chicken market, has now called on its competitors to follow suit. So far, it is the only fast food chain in the UK to make the pledge.
"Signing up to the European Chicken Commitment isn't just a box-ticking exercise for us, we're doing this because we truly believe it's the right thing to do," said Paula MacKenzie, general manager of KFC UK & Ireland.
"Our business depends on the health, sustainability and reputation of chicken farming, and our customers care about improving the lives of the chicken we buy.
"That's why we're adding our voice to the campaign and encouraging others to do the same – because to inspire real change and provoke meaningful action, we need the industry to move with us."
KFC's move has been described as "truly significant" by the animal welfare charities behind the 'Better Chicken Commitment'.
"It is fantastic to see such an iconic chicken brand boldly commit to such significant welfare improvements in their supply," said Compassion in World Farming's director of food business Tracey Jones.
She added, "Compassion has been working with KFC for nearly 10 years and we are delighted with their genuine desire to do the right thing, not only for the chickens in their supply, but for a wholescale market shift towards better chicken too."
Last month, fellow animal rights charity The Humane League launched a campaign to compel McDonald's to sign up to the same pledge.
However, the company responded by saying it was investing "significantly" in raising welfare standards, and was undertaking research to better understand the "challenges that remain".
When asked by The Grocer whether it would be signing up to the commitment in light of KFC's move, a McDonald's spokeswoman said, "We are using our scale for good to meaningfully impact issues that are important for people, animals and the environment."
"In October 2017, we announced eight commitments to measurably improve chicken health and welfare outcomes across our global supply chain by 2024.
"These commitments include setting and driving to progressive targets for key welfare measures and incorporating on-farm welfare enrichments such as lighting and housing environment standards that promote natural behaviour."