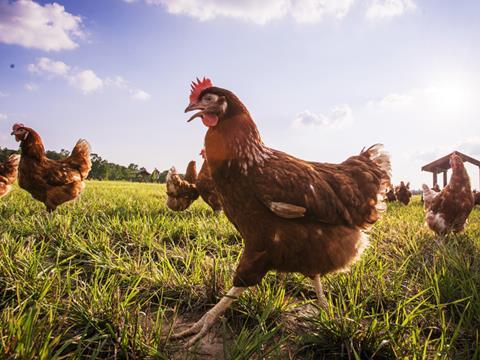 Noble Foods has defended its animal welfare standards after a Sunday Times exposé claimed eggs sold under its Happy Egg Co brand were laid by 'mutilated' hens.

The UK's largest egg producer - which made a commitment to supply only cage-free eggs by 2025 last month - said it would take legal action against The Sunday Times over its 8 April exposé.
The article claimed the Happy Egg Co brand sourced chicks from German hatchery Brüterei Hölzl, that had been subjected to "cruel" beak trimming methods.
Citing undercover evidence by German animal welfare group Soko Tierschutz, it said the hatchery suspended chicks by their necks in a machine that "burnt off" the tips of their beaks, before being transported by lorry 900 miles across Europe to the UK, where they became high welfare Happy Egg Co hens.
But in response, Noble Foods said the piece was factually incorrect "on a number of issues" and would be subject to a legal complaint.
No chicks from the hatchery were used by the Happy Egg Co brand, it said, with the brand's chicks always bred in the UK. It also stressed more than 98% of chicks used by Noble Foods were sourced from UK hatcheries.
Meanwhile, the claim that "newborn chicks are having their beaks burnt off", was "fundamentally untrue", said a spokesman for the supplier.

"Beak trimming is a welfare measure conducted to reduce issues with aggressive behaviour such as pecking within flocks," he added. "It is normal practice across the EU and UK. All hatcheries supplying Noble use a non-invasive infrared beak trimming system for the treatment of chicks which is entirely legal."
The British Egg Industry Council confirmed beak trimming was legal and common practice in the UK and though it was "actively seeking alternatives", the practice was deemed necessary to avoid harmful feather pecking and occasional cannibalism.

"The industry is committed to working towards an end to beak treatment," it said. However, it was mindful of the Beak Trimming Action Group's advice "that a ban at this time could result in outbreaks of severe feather pecking, and having to employ emergency beak trimming using the hot blade method, which is a far worse outcome from an animal welfare perspective."
Solutions sought
Egg producers were also working with breeding companies to select birds with reduced propensity to peck and cannibalise, a BEIC spokesman added, though a commercial solution could yet be a long way off.

Soko Tierschutz's video also showed male chicks dumped in wheelie bins and gassed with CO2, similar to routine practice in the UK, where male chicks are asphyxiated with argon.

The BEIC has committed to eliminating the need for disposal of day-old male chicks, while research is underway in Germany and Canada to avoid the mass culling of male chicks. Methods under investigation include sexing embryos at an early stage of development and sexing hatching eggs using cameras before incubation.

A Noble Foods spokesman added: "We take the welfare of poultry on all farms throughout our supply chain very seriously. The egg industry and its customers require companies both in the UK and in Europe to be stringently checked by regular independent auditing procedures. All sites supplying Noble Foods are fully compliant with UK government and European regulations on welfare of poultry.
"Whilst we have no reason to doubt any of these procedures have been breached we are nevertheless launching an investigation and audit of the site."