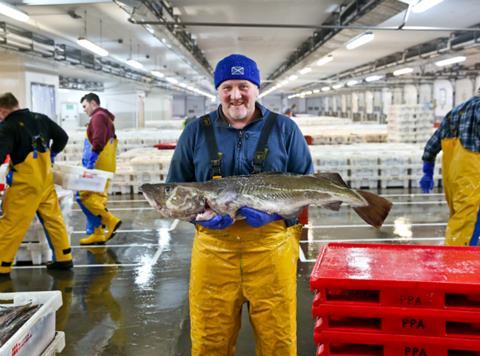 Sustainable North Sea cod is back on the menu, more than a decade after stocks came perilously close to collapse.
Shoppers and diners could finally buy the popular fish with a clear conscience, the Marine Stewardship Council said today (19 July), after it announced that Scottish and English cod boats which were members of the Scottish Fisheries Sustainable Accreditation Group had achieved MSC certification.
"Thanks to the enormous efforts of a coalition of fishing organisations with support from supermarkets, seafood brands and industry body Seafish, North Sea cod has passed an independent assessment against the MSC's strict standard," the NGO said.
The news means that – subject to strict traceability requirements – North Sea cod can now be sold in supermarkets and restaurants bearing the MSC 'blue tick' label, indicating that it is sustainable and fully-traceable.
Waitrose is the first retailer to stock MSC-certified North Sea cod – following an 18 year absence – with skinless fillets of North Sea cod going on sale this week.
"We were one of the first to stop selling UK cod nearly two decades ago over concerns about declining stocks," said Waitrose aquaculture and fisheries manager Jeremy Ryland-Langley.
"Sustainability has always been top of our agenda and we know that cod is one of our shopper's favourites, so we are delighted that they can once again enjoy this delicious fish caught from UK waters."
Confusion over sustainability
Re-certification of North Sea cod marked the end of confusion over its sustainability, added MSC programme director for the North East Atlantic Toby Middleton, who noted YouGov research for the MSC in 2015, which found that 28% of consumers thought cod was not sustainable and should not be eaten.
"If you can see the MSC label on your cod, you know that it has come from a sustainable source. By choosing fish with that label, you will be helping to protect stocks long into the future," he added.
Cod stocks in the North Sea peaked at 270,000 tonnes in the 1970s. However, overfishing drove stocks to just 44,000 tonnes in 2006, which ultimately led to the implementation of a cod recovery plan by the EU and Scottish government to help nurse the stock back to health.
"This is a massive development for the catching sector and is a testament to the power of collective action," said chairman of the Scottish Fisheries Sustainable Accreditation Group, Mike Park.
"The years of commitment to rebuilding North Sea cod has shown that fishermen are responsible and can be trusted to deliver stable and sustainable stocks. The consumer can now eat home-caught cod with a clear conscience."
WWF head of UK marine policy Lyndsey Dodds welcomed the stock's recovery. However, she warned the amount of fish at breeding age was "well below late 1960s levels and recovery remains fragile".
It was vital the industry "didn't lose focus" on sustainably managing fish stocks and ensuring the protection of marine wildlife and habitats as the UK develops its post-Brexit fisheries policy, she added.
"Embracing new technology and installing cameras on the UK fleet would be a highly cost-effective and efficient way to help manage and monitor cod catches, as well as the range of other fish also caught by these boats."