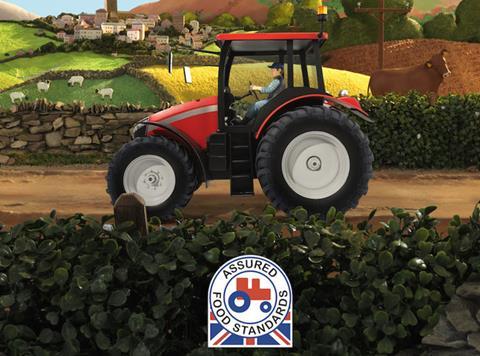 Red Tractor's £1.5m ad campaign has been hailed a success, with the number of shoppers saying they would choose Red Tractor assured food over the cheapest alternative growing by five percentage points.
Research of 2,000 shoppers carried out by YouGov before the campaign started in September and after it ended in November found an extra 1.4 million shoppers would choose food carrying the Red Tractor label.
Based on Kantar Worldpanel data which put the number of households in Great Britain at 27.5 million, this meant some 41% (or 11.3 million) of shoppers would choose Red Tractor products first, up from 36% (or 9.9 million) before the campaign started.
In addition to the spike in purchasing intent, the eight week ad push also drove an increase in recognition of the scheme, with the number of shoppers associating the logo with 'traceable food from farms to pack' almost doubling from 32% to 62%.
Red Tractor CEO Jim Moseley welcomed the results of the campaign as "fantastic", adding they were "just the start" of a prolonged push to enhance the reputation of the logo.
But he warned the success of the ad campaign and the integrity of the scheme would only be sustained if assured farms remained "100% compliant, 365 days of the year".
It follows a challenging year for Red Tractor, after a series of food safety and animal welfare breaches at assured businesses led many to question the long-term future of the scheme.
Red Tractor announced plans in September to introduce a suite of beefed up 'modular standards' next year as part of a move to renew public confidence. It is also planning to run a second ad campaign in 2019.
"This is just the start and we will continue to enhance the reputation of our world-leading assurance scheme," Moseley said.
"We need to do this together. We need our members to maintain Red Tractor's standards every day of the week to show consumers that we have something robust they can trust and buy into," he added.
"This campaign is a building block as we bid to become the flagship for British food and farming. Increasing confidence in Red Tractor is vital, particularly as we approach Brexit."