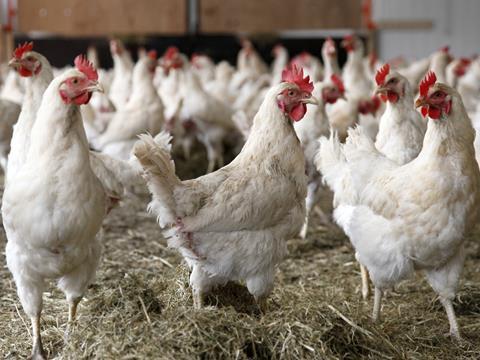 Red Tractor has launched an industry consultation over plans to update and "evolve" its core standards, with a greater emphasis on animal and farmer welfare and environmental protection.
The consultation, which will run until 5 March, will ask stakeholders for their views on changes across the assurance scheme's six sectors: beef and lamb, poultry, pigs, dairy, fresh produce and combinable crops and sugar beet. It is due to finalise the revamp by November.
The move would simplify some of the requirements for farmers "to drive greater understanding and compliance, and rationalising standards which are common across multiple sectors, providing improved clarity for both farmers and their assessors", Red Tractor said.
Key changes include linking welfare outcomes to standards, such as stipulations over housing structures and cleanliness "and making it absolutely clear what is and isn't acceptable when handling animals".
Such proposals would see tethering of animals in the dairy and beef & lamb sectors as a management practice banned, while those working in the pig sector would also need to undertake separate animal welfare training.
The consultation also includes proposals for new standards on biosecurity to minimise the risk of disease spread, tighter rules on medicine use and a raft of new welfare rules for poultry keepers, including a proposal that only slower-growing breeds can be used for free-range chicken production.
Improvements to environmental protection are also highlighted, including proposals to improve issues such as soil erosion and nutrient run-off, while actions to boost health and safety on farms are also addressed.
The consultation follows the introduction of a suite of voluntary additional 'modular standards' over the past two years, including specific higher welfare standards in areas such as poultry.
It follows recommendations made in a review of the scheme by academic Dr Jonathan Birnie in 2019, which identified limitations in the current standards around animal and worker welfare and environmental protection in particular.
"We are a proven world leader in food chain assurance, but we cannot rest on our laurels," said Red Tractor CEO Jim Moseley.
"Red Tractor is recognised as a symbol of British food quality but to maintain this, our standards must continue to evolve with the times, to ensure they address changes in legislation, industry practice and reflect the emerging issues on shoppers' minds," he added.
"At a time of ever-increasing scrutiny, preserving the public's trust in UK agriculture and the Red Tractor logo has never been more important.
"These proposals strive to strike a delicate balance which protects and promotes our members, reassures consumers and customers, while acknowledging the implications of the challenges that the industry faces with future trade deals and the agricultural transition plan."