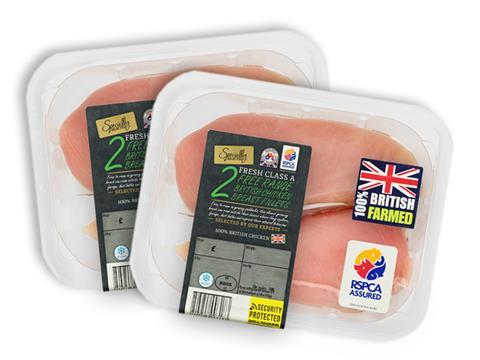 Volume sales of RSPCA Assured products soared by 23% last year, despite the number of products available falling by more than a thousand.

The number of assured products on sale in the major supermarkets fell from 3,719 in 2015 to 2,724, suggesting retailers were "consolidating the number product lines available", said a spokeswoman for the scheme.

However, volumes rose in 2016 and continued to grow during 2017, while 373 new members successfully joined RSPCA Assured, bringing the total number of the scheme's members to 3,665, according to its annual report.

Brand recognition also rose, the report added, jumping from 15% in 2015 to 33% of shoppers.

Aldi rose above the Co-op to become the second-largest retailer of RSPCA Assured products. Sainsbury's again carried more products (899) than any other retailer, giving it a market share of 53.4%.

McDonalds held a 67.2% market share as the largest foodservice operator.

"This news flies firmly in the face of the common misconception you need to shop and eat in 'high-end' supermarkets and restaurants to get higher welfare products," said RSPCA Assured CEO Clive Brazier.

"With their commitment to stocking and using RSPCA Assured products Aldi and McDonald's have clearly shown that higher welfare doesn't always mean consumers having to pay a much higher price."

Sainsbury's said it was "proud that, once again, we have set the bar high for higher welfare sourcing", while Aldi joint MD of corporate buying Tony Baines said shopping at the discounter meant "responsibly sourced products at affordable prices".