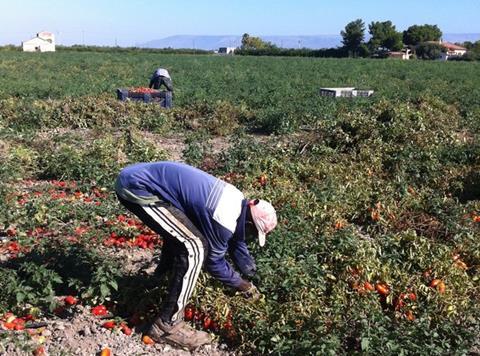 Supermarkets are being urged to address the grave conditions facing seasonal workers on Spanish fruit & vegetable farms during lockdown.
Thousands of workers are trapped in cardboard and plastic shelters without access to food or running water due to the coronavirus restrictions, according to the local SOC-SAT union, with many on farms previously linked to British supermarkets.
The exploitation of migrant farm workers in southern Spain has been widely reported in recent years but the pandemic had pushed the situation to "crisis point", said Clare Carlile, researcher at Ethical Consumer.
Supermarkets had a responsibility for "the rights of workers who grow the produce that they sell," said Carlile, and should publish the farms from which they source to help aid the situation.
"Some are making steps in the right direction," she said, highlighting Co-op's pledge to publish details of its suppliers in some of the highest-risk food categories by 2020, as well as Marks & Spencer and Waitrose's efforts to publish all tier-one suppliers.
"But there are still mechanisms they can put in place that they're not putting in place at the moment," she added, such as greater engagement with local agricultural unions.
Peter Andrews, head of sustainability at the British Retail Consortium, said many supermarkets funded the Spain Ethical Trade Supplier Forums, a coalition that supports growers in southern Spain to improve the safety and wellbeing of workers.
While some retailers had begun publishing supplier lists, "it should not be underestimated how challenging it is to do this," said Andrews. "Retailers source goods from hundreds of direct suppliers and thousands of indirect suppliers, and this changes throughout the year depending on different factors such as the season."
Spain is the largest supplier of fruit & vegetables to the UK, with most grown in the regions of Huelva and Almeria, where migrants are currently struggling.
Many workers fear they are unprotected against the virus due to inadequate supplies of protective equipment.
"We're living here, feeling scared and afraid, because up until now we haven't received any kind of help, not in terms of water, gloves, or face masks," Amadou, a member of the Collective of African Workers, told Ethical Consumer.
Last month Philip Alston, the UN Rapporteur on extreme poverty and human rights, condemned the workers' conditions in Huelva, stating they were "simply inhuman" and "rival the worst I have seen anywhere in the world".
He has asked Driscoll's, the largest strawberry supplier in the region, to list the actions it is taking to monitor and improve labour conditions in the area.