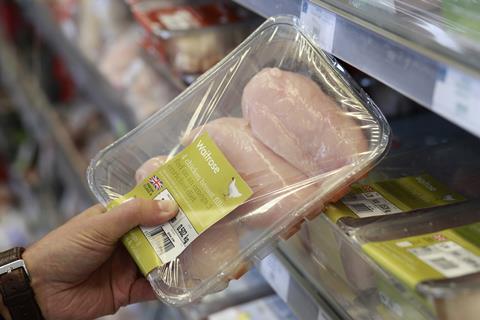 A new petition is urging all supermarkets to match Waitrose's commitment to reject lower food standards in the event of a post-Brexit trade deal with the US.
Waitrose said last month it would refuse to sell any food that does not meet its "own high standards", while Aldi pledged yesterday to never selling chlorinated chicken or hormone-injected beef, irrespective of any future trade deal.
The petition calls on Tesco, Asda, Sainsbury's Morrisons, Aldi, Co-op and Lidl to "commit to protecting the UK's high food and animal welfare standards and thriving farming sector" by refusing to stock products like chlorinated chicken and hormone-treated beef in event of a US trade deal.
It has reached over 122,000 signatures in a matter of days, according to the 38 Degrees website.
There are concerns that unless all supermarkets make the same commitment, a two-tier food system could emerge in which lower-income shoppers are forced to accept lower standards.
"If people have no money, it's proved time and time again in academic research that consumer awareness around food safety and quality tends to disappear when we start talking about price," said Liam Fassam, associate professor of supply chain management at the University of Northampton.
With a new price war now looming, it could become increasingly testing for retailers and suppliers to pledge to use higher-cost ingredients.
"Something will go in the supply chain," said Fassam. "Maybe rather than using product A you'll have to switch to product B which is cheaper. Or you end up with fraud, because those suppliers will end up being squeezed so, so hard it will open them up to fraudulent behaviours without them necessarily trying to be fraudulent."
Sue Davies, head of consumer protection and food policy at Which?, argued it was vital the government legislated against lower standard food entering the UK, rather than relying on the supermarkets to enforce it.
"You could have commitments from some supermarkets which would give people reassurance, but then you would have this meat going into a whole range of other products that people wouldn't necessarily know about."
Davies rejected suggestions from US secretary of agriculture, Sonny Perdue, that "if the consumer doesn't want them that way, they won't buy them".
"It wouldn't be a meaningful choice because in lots of situations you wouldn't be able to have clear labelling and know exactly what you were getting," she said.