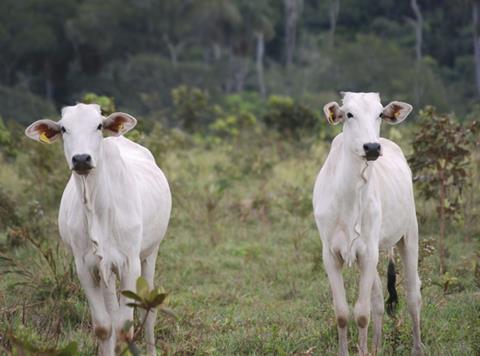 Morrisons and Lidl are among supermarkets under mounting pressure to drop JBS SA as a supplier after the meat giant was linked to a Brazilian beef farm allegedly under embargo for rainforest destruction.
JBS, which supplies Morrisons and Lidl's own-brand corned beef as well as Princes, and Exeter, a brand owned by KTC Edibles, has repeatedly insisted it does everything it can to stop cattle reared on illegally deforested land entering its supply chain.
However, it has always claimed it can only monitor its direct suppliers.
Now, a joint investigation by the Bureau of Investigative Journalism, Repórter Brasil, and The Guardian claims to have uncovered photos showing a JBS truck picking up cattle from a farm with land allegedly under embargo for environmental violations.
Photos posted on Facebook last year by a Brazilian lorry driver appear to show a JBS lorry picking up cattle from Estrela do Aripuanã, whose owner was fined 2.2m real (£340,000) in 2012 for rainforest destruction, and transporting them to Estrela do Sangue, a direct supplier of JBS.
In addition to the fine, 1,455 hectares of land in the Aripuanã area were placed under official embargo prohibiting cattle grazing, according to records published by Ibama, Brazil's environment agency.
Although the Facebook photos show only one journey, cattle movement records seen by The Grocer reveal that from June 2018 to August 2019 at least 7,000 animals were sent from Estrela do Aripuanã to Estrela do Sangue. Separate records show the Sangue farm sent about 7,000 cattle to JBS abattoirs between November 2018 and November 2019.
Campaigners are now calling for supermarkets to reassess their relationship with the Brazilian meat giant. "Retailers must stop trading with all JBS-owned companies while we still have enough of the Amazon left to fight for," said John Sauven, executive director of Greenpeace UK.
JBS disputed claims the farm identified in the Facebook post was under embargo. It told The Grocer it undertook its own background checks on Estrela do Aripuanã, concluding "that the geographic coordinates of the farm that the cattle were collected from, were not those on the Ibama list and were free of any such Ibama."
"The confusion has arisen whereby the CPF (Brazilian National ID) of the property owner appears on the Ibama List of Embargoes Areas. What the report fails to take into account is that the Ibama list also details the geographic coordinates of the specific embargoed area," said a spokeswoman.
JBS also told The Grocer that before the transport pictured in the photos was approved, the farm "was cross-referenced with JBS' advanced geospatial satellite monitoring capability to ensure that the property was not involved in illegal deforestation. This is in full compliance with the Ibama regulations and industry best-practice."
A Princes spokesperson said: "JBS have confirmed to Princes that both of the farms stated by The Grocer are direct suppliers and as such are subject to GPS monitoring and verification against government embargoed farms. Neither of the farm locations referred to are on any government blacklist."
Faazi Adam, research and engagement manager at FAIRR, a global investor network, said that given Brazilian cattle typically moves several times before reaching the slaughterhouse, it was vital supermarkets themselves assessed every agent in the supply chain.
If any supplier is found to be failing to comply with deforestation requirements, retailers must take action, "either supporting the supplier to re-instate compliance, or severing ties".
UK supermarkets have previously expressed support for ending deforestation of the Amazon. Morrisons, Tesco, Sainsburys and Marks & Spencer were among 40 signatories on a letter in May threatening to boycott Brazilian products if lawmakers passed a measure to enable further destruction of the Amazon rainforest.
The letter said the measure would encourage "further land grabbing and widespread deforestation" and endanger the survival of the Amazon. The measure expired without being voted upon but has since returned to congress as a bill.
Deforestation in the Brazilian Amazon exceeded 10,000 square km last year, according to Brazil's national space research institute INPE, an area more than six times the size of Greater London. Trase estimates up to 5,800 square km lost each year is linked to the beef industry.
Yet despite concerns among both industry and public, British imports of Brazilian beef have continued to grow.
The UK imported more than 27,000 tonnes of Brazilian beef between May 2019 and April 2020, according to a leading trade database, up from 25,700 tonnes in the same period two years earlier. In the past year, JBS alone has shipped 11,500 tonnes to the UK.
Zac Goldsmith, international environment minister, said the government is looking closely at recommendations from the Global Resource Initiative taskforce aimed at reducing deforestation caused by Britain's imported products.
It includes introducing new due diligence requirements for companies such as supermarkets and food manufacturers to identify environmental risks in their supply chain.
"There is a hugely important connection between the products we buy and their wider environmental footprint," said Goldsmith. "A lot of progress has already been made to make the UK's supply chains more sustainable, but we know that more needs to be done."
Leah Riley Brown, sustainability policy advisor at the British Retail Consortium, said "retailers are collaborating to tackle deforestation and drive greater uptake of certified sustainable products in their supply chains" by "working with suppliers to move to more sustainable sourcing by providing them with access to training and more information."
The Princes spokesperson added: "All Brazilian sourced beef must come from suppliers that undertake and publish annual independent audits to ensure no purchases are made from farms that have illegally deforested native forests in the Amazon Biome after October 2009; from farms that are located within Indigenous Lands and Environmental Conservation Areas; that are on the public list of areas embargoed by IBAMA for illegal deforestation; or in the public list of Ministry of Labour (MTE) of employers who used work practices that are degrading or linked to slavery."
"We have regular dialogue with our suppliers regarding how they can continually improve their supply chain management."
The JBS statement in full:
"JBS was one of the first companies in the industry to invest in policies and new technologies to fight, discourage and eliminate deforestation in the Amazon Rainforest over a decade ago and remains steadfastly committed to this cause.
"All suppliers that JBS group companies deal directly with (and all associated transactions) are subject to JBS' strict socioenvironmental monitoring criteria. This includes automatic exclusion of any farm involved in the deforestation of native forests, invasion of protected areas such as indigenous lands or environmental preservation areas, or properties that have areas embargoed by IBAMA (the Brazilian Environmental Agency). We also do not purchase livestock from farmers involved in rural violence or land conflicts, or those who use slave or child labour.
"Our monitoring system is considered one of the best and most sophisticated in the world, assessing more than 50,000 potential livestock supplying farms every day and covering more than 450,000 km² (111 million acres) – an area larger than Germany (357,000 km²). To date, we have blocked more than 9,000 cattle supplying farms due to noncompliance with our sustainability criteria.
"There is currently no publicly available official information to enable monitoring of indirect suppliers. We are nevertheless committed to tackling this issue and are in active discussion with stakeholders including the Federal Government of Brazil and other leaders across the industry to reach a practical solution.
"Despite this, the BIJ report has used an individual JBS Transport cattle movement between farms to support a spurious allegation of complicity in cattle laundering and to conflate it with the system level-issue of indirect supply traceability in Brazil which we are also working to address.
"Cattle laundering is when a livestock producer whose farm has an IBAMA environmental embargo for illegal deforestation uses a third party to supply their cattle to processing plants. To be clear, the cattle transport movement referred to in the BIJ report was not bound for a processing plant. Nor was the farm of origin subject to an IBAMA embargo.
"For the record, JBS is not involved in, nor does it condone cattle laundering. In fact, it has been at the forefront of initiatives to stamp out this practice, working with the Federal Prosecutor's Office and the Brazilian NGO Imaflora to introduce enhanced protocols enforceable from 1 July 2020.
"JBS Transport is a subsidiary of JBS which has a primary function of transferring cattle from farms to JBS processing plants. In order to optimise the fleet and reduce environmental impact, drivers may also be contracted by individual property owners to take cattle on farm to farm journeys. All journeys must be booked via our app, UBOI, and all services undertaken must adhere to JBS' strict socioenvironmental criteria.
"Before the transport referred to in the report was approved, the farm of origin's CAR information (Brazil's National Environmental Registry of Rural Properties) which contains the geographic coordinates of a property, was cross-referenced with JBS' advanced geospatial satellite monitoring capability to ensure that the property was not involved in illegal deforestation. This is in full compliance with the IBAMA regulations and industry best-practice.
"The confusion has arisen whereby the CPF (Brazilian National ID) of the property owner appears on the IBAMA List of Embargoed Areas. What the report fails to take into account is that the IBAMA list also details the geographic coordinates of the specific embargoed area despite our repeated clarification of this fact. In Brazil, it is not uncommon for individuals to own multiple properties, which is why the IBAMA list contains specific geographic coordinates which are used to identify each property rather than just providing the individual's CPF.
"Our system cross-references the best available information based on the CAR map of the property, along with its geographic coordinates, against the IBAMA data. The JBS Sustainability team analysis, including review of the CAR registration for the property, concluded that the geographic coordinates of the farm that the cattle were collected from, were not those on the IBAMA list and were free of any such IBAMA embargo. We reinforce that had we not been satisfied that this farm was free of embargo, the entire transaction would not have taken place.
"JBS constantly reviews how our system protocols interact with the most up-to-date data available and are determined to enforce our strict company policies."