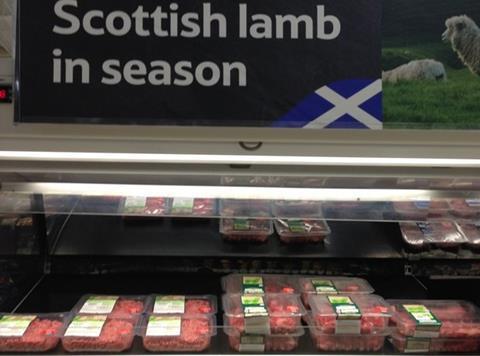 Tesco has hit back at criticism over the display of New Zealand lamb on shelves underneath a Scottish banner.
Farmers attacked the retailer on Friday (11 September) after finding imported lamb for sale on shelves under a banner that read 'The best Scottish lamb in season' in the Tesco Extra store at Hermiston Gait near Edinburgh.
The National Farmers' Union Scotland (NFUS) branded the point-of-sale display as "abuse of the 'Scottish' brand", and said it had written to Tesco demanding that it review the signage and increase its commitment to home-produced lamb.
However, a Tesco spokeswoman pointed out the signage made no claim that all lamb on sale in the store was Scottish, and said all lamb products were "clearly labelled" with their country of origin.
"We recognise the quality of Scotch lamb and we are proud to be its biggest customer, and we sell more Scotch lamb than any other retailer," she added.
"All of our lamb counters are 100% Scotch lamb all year round and our Tesco Finest lamb is also Scotch. Our pre-packed lamb, which currently is predominantly Scotch, is clearly labelled with the country of origin to allow our customers to simply identify Scotch products as part of their shopping choices."
Tesco has come under increasing pressure to stop sourcing lamb from New Zealand, with stores and distribution centres targeted by angry farmers protesting over low farmgate prices in recent months.
The retailer is the biggest UK buyer of British lamb, but farmers claim it should stop importing lamb altogether while there is such a glut of produce on the UK market.