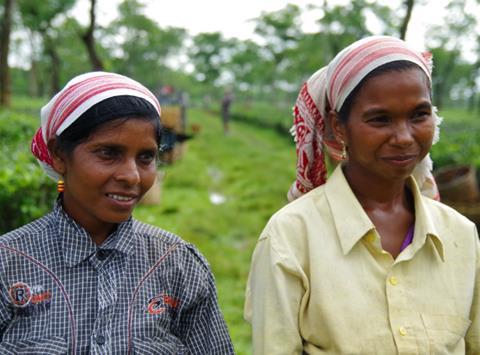 Leading tea brands have defended their ethical sourcing credentials in the face of a report highlighting the "appalling conditions" and "pitifully low wages" of workers on Assam tea estates.
The report from international development charity Traidcraft Exchange claims estates "believed to supply UK tea companies" trap female workers in an unchecked culture of surveillance and control by management, with pay below the local minimum wage levels, accommodation that is "often leaky and in a state of disrepair" and sanitation "minimal or non-existent with open defecation the norm when working".
The document, The Estate They're In: How the Tea Industry Traps Women in Poverty in Assam, also accuses estates of providing inadequate healthcare and food that is "insufficient and of poor quality".
"The women who pick the tea we drink live in appalling conditions and are paid pitifully low wages by tea estates in Assam," said Fiona Gooch, senior policy adviser for Traidcraft Exchange. The organisation has called on the UK's big tea brands to be transparent about which tea estates they buy from to help drive improvements.
"Publishing their list of suppliers would mean that consumers – and more importantly women workers in Assam – could hold tea estates to account," Gooch added.
Industry-wide challenges
Yorkshire Tea supply director Keith Writer welcomed the Traidcraft report, saying it would "play a huge role in raising the profile of industry-wide challenges and pushing for improvements" – though issues on Assam estates were "driven by multiple factors and systemic in nature and are unlikely to be resolved through the actions of the value chain alone".
Yorkshire Tea had provided "a full and open response to Traidcraft detailing our work in Assam, including our investigations into living conditions on supplier estates and our ongoing commitment to work in partnership with those suppliers who are serious about improving standards" Writer added.
"We're also prototyping 'community development forums' on four estates as a way of empowering estate populations so they can have a real say in how their estates are run and play their own part in improving life on the estate. The hope is that this can be used as a model for the other estates in Assam."
Twinings said it was "committed to ethical sourcing, and we believe everyone has the right to a good quality of life. Our Sourced with Care programme aims to make this a reality in the communities where we source our product."
Transparency
In Assam, Twinings was building 700 latrines and extending its work with Unicef, which had so far reached 34,000 girls through nutrition, empowerment and protection interventions, a spokeswoman for the brand added.
"We agree that transparency and accountability are important, and we have been working hard to provide more transparency over our sourcing, but we believe that at this stage publishing a full list of gardens would not guarantee better conditions."
Clipper Teas' Assam tea was sourced solely from producers in the Fairtrade system, said brand controller Adele Ward.
"It's great to see Traidcraft encouraging tea companies to make a difference. While Fairtrade certification plays an important role it cannot alone solve all the challenges faced in the Assam region, considering the complex historical and political challenges," she added.
"Companies like ours have a key part to play in helping tea plantation employees and their families. We wholeheartedly support Fairtrade's ongoing drive to improve working and living conditions and make a positive impact in Assam."
A spokeswoman for Tetley underlined the brand's "commitment to source all teas from Rainforest Alliance-certified farms and monitor the environmental and social conditions on the estates from which we buy to ensure that our suppliers are Rainforest Alliance-certified.
"We are aware of issues in Assam and, through our membership of the Ethical Tea Partnership, are involved in a number of projects, which address issues on the ground."
Typhoo said it was aware of "a range of complex issues relating to tea growing in Assam and in particular the difficulties faced by people living in the communities of the tea growing districts".
A spokesman for the brand said: "Any efforts to make positive change in the tea industry in Assam, where those most vulnerable will benefit, need to involve multiple stakeholders from exporters, to domestic packers, growers, government and NGOs.
"As members of the Ethical Tea Partnership, we are committed to bringing about meaningful and sustainable change across all our sourcing regions."