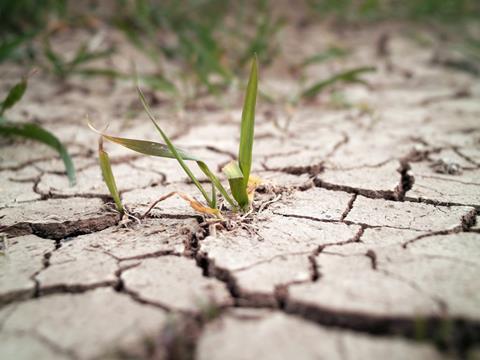 Last year's drought represents the shape of things to come for UK fruit & veg growers, who will increasingly have to contend with the malign effects of climate change, a new report has warned.
Extreme weather caused by climate change posed a "major threat" to British potato and carrot crops in particular, warned Recipe for Disaster, published today by The Climate Coalition and the Priestley International Centre for Climate, and could threaten future supplies of British produce.
The study – which has been endorsed by environment secretary Michael Gove – revealed the UK should expect "more frequent extreme weather events, including longer-lasting and more intense heatwaves". It cited a 20% drop in potato yields last year, which had reduced crop quality and even contributed to smaller chips this year.
There was also a one in three chance of record-breaking rainfall hitting parts of England each winter, it warned, adding the UK could lose almost three-quarters of the land area currently well-suited for potatoes by the 2050s under climate projections.
Such a scenario could make British-grown potatoes and other fruit & veg harder to come by for shoppers, with more than half of UK farms saying they had been affected by a severe climatic event, such as flooding, during the past 10 years.
In addition to potatoes and carrots (which saw yields down by 30% last year due to extreme weather), the study warned onion crops would also be vulnerable. Meanwhile, English vineyards could also be badly affected by climate change, with some reporting up to 75% of their crop had been damaged by late spring frosts in 2017.
"A lot of growers will have come out of this year with sore heads and not much income," said NFU head of horticulture Lee Abbey. "Farmers and growers are used to dealing with fluctuations in the weather but if we have two or three extreme years in a row it has the potential to put growers out of business."
The challenge for everyone – and not just the food and farming sector – was "to work to reduce climate emissions to help protect the things we love for future generations", the report warned.
While the UK's greenhouse gas emissions were 43% below 1990 levels in 2017, they were not currently on track to meet its future targets, legally binding under the Climate Change Act 2008.
"Losing an inch off our chips is no laughing matter," said Climate Coalition director Clara Goldsmith. "Even worse if we lose supplies of our much-loved British spuds altogether. We should be doing all we can to help safeguard our home-grown fruit & vegetables for future generations."
High-quality, locally grown fruit & veg was a crucial component of British diets, added Gove.
"Yet, as we saw with last year's drought, this nutritious food, and the livelihoods of the hard-working farmers who grow it, are increasingly threatened by more extreme weather and increased pests and diseases as a result of climate change," he said.
"We will use powers in the Agriculture Bill to reward farmers who reduce their emissions and adapt to the effects of climate change through our new Environmental Land Management scheme."