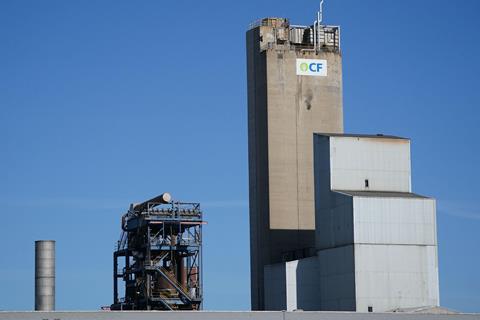 The food sector was bracing itself for further disruption of CO2 gas supplies as The Grocer went to press on Thursday, with no indication over whether the UK's biggest supplier would continue deliveries from next week.
A government-brokered pricing arrangement between US chemical giant CF Industries and its customers was agreed on 11 October, following a temporary financial bailout after it halted gas manufacturing at its two UK sites in September amid soaring energy prices.
The fixed-price deal allowed CF to restart production at its Billingham site on Teesside and averted a major gas supply crisis the British Poultry Council warned could "dwarf" the one that struck the food sector in 2018.
The gas is a key input across a variety of functions, from animal slaughter and packaging to the carbonation of drinks. CF represented about 60% of the UK's total supply of CO2 gas last year (from two plants), but with the pricing deal due to expire on 31 January, the supply situation now looks uncertain once again.
The Department for Business, Energy and Industrial Strategy this week told The Grocer "it was for the CO2 industry to ensure supplies" – suggesting it had no plans to step in on this occasion, while CF Industries did not respond to a request for comment.
However, a BEIS spokesman stressed that further supplies of CO2 gas had also come online since October –including at Ensus in Wilton, North Yorkshire – alongside additional imports that helped to improve resilience.
Businesses also had supplies stored to help protect against some short-term disruptions, it added, while one senior food sector source said intelligence from staff at the CF site suggested a shutdown was not currently in the offing – pointing to the significant amount of preparation work required to halt production of the gas.
Additionally, Defra had assured pork and poultry suppliers that if a shutdown did occur, the two sectors would be prioritised alongside areas such as the nuclear industry and the NHS, said British Meat Processors Association CEO Nick Allen.
"But gas prices will rise dramatically in such an outcome, and the uncertainty is frustrating everybody," he added.
Prioritisation 'a battleground'
This would also mean other categories, such as the soft drinks and beer sectors, could potentially suffer from tighter gas supplies, suggested another senior food sector source.
"Prioritisation will be a battleground," they suggested, and could even lead to a legal battle with the government, "as they would argue prioritising pigs and poultry over other parts of the food sector isn't fair".
Questions also remained over how gas supplies could be shipped to the UK in the event of CF stopping production, the source added.
"There is a critical logistics issue with [sourcing from] Norway. Because no one ever needed to move CO2 in bulk and at such scale, there's only one boat that can do that. So production can come from Norway but the physical act of getting it to the UK requires more transport capacity than currently exists," they said.
Experts had also suggested that the capacity the government was now banking on could be overstated, the source said, particularly given how the Norway gas supply route via chemical firm Yara could face increased demand due to the developing Ukraine/Russia crisis.
Further disruption to gas supply would add additional pressure to the beleaguered brewery and pub sector, suggested British Beer and Pub Association CEO Emma McClarkin, who called for a "longer-term solution" to the CO2 gas supply situation in order to avoid "sudden outages – particularly as energy prices are likely to remain high for some time".
Her comments were echoed by British Soft Drinks Association director general Gavin Partington, who said "certainty of [gas] supply is fundamental, especially at a time where manufacturers are facing various other pressures, including the shortage of HGV drivers for distribution".