H&M has just launched a radical new transparency programme for its clothes.
Under a 'product sustainability' section on its website, shoppers can now see which supplier produced each item and in which factory, including the exact street address.
The move has reignited debate about supply chain transparency and how consumer expectations around transparency are changing.
So how does grocery measure up against H&M's scheme? And do initiatives like it mean food and drink companies will face growing pressure to be more transparent?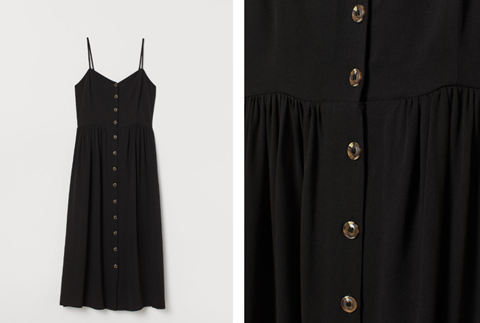 There is, of course, no shortage of supply transparency initiatives in grocery.
M&S, for example, has an interactive map on its website that shows the locations of factories it uses and from where key raw materials, such as milk, beef, tea and coffee, are sourced.
And only this week Nestlé announced the launch of 'transparency dashboards' that allow consumers to check up on its progress against its zero-deforestation targets on palm oil.
Still, few food and drink initiatives today are as radical as H&M's. Product-level transparency – where consumers can find out who made a specific product – is especially rare. While H&M shoppers can look up supplier information and factory addresses for individual garments, grocery shoppers typically have to make do with more generic assurances about sourcing standards.
Even the M&S map – seen by many experts as a leading example in grocery – doesn't join the dots between the supplier information it provides and individual SKUs.
Unique challenges
This is partly because food and drink faces unique challenges when it comes to transparency.
While transparency and traceability for simple, unprocessed products is often very good (and in some cases, like seafood, underpinned by legislation), complex, manufactured food products are a different proposition. These can contain dozens of ingredients, all of which would have to be mapped to achieve full product-level transparency.
No easy feat, especially when supplier relationships can be highly volatile.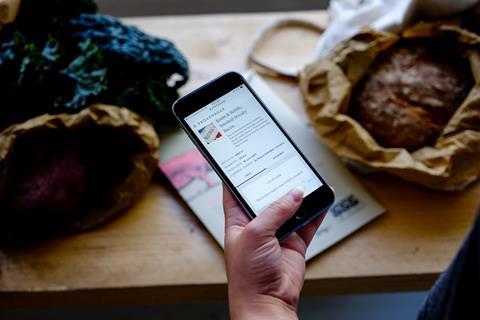 "One of the big challenges in food and drink is that supply chains are much more dynamic than in other sectors," says Jessi Baker, founder and CEO of Provenance, a transparency software provider whose clients include the Co-op, Sainsbury's and Unilever. "Sourcing arrangements can change very quickly. This is also what's prevented greater on-pack transparency to date. The information is out of date before you know it."
What's more, vast swathes of food and drink supply chains have yet to be digitised, especially in the developing world, Baker adds. "There are still lots of parts of the supply chain that conduct their business using pen and paper."
Outmoded systems within the grocery companies themselves (in some cases, enterprise resource planning, or ERP, setups can date back to the 1990s) can further hamper efforts.
Culture change
Slow progress on transparency isn't just down to technical barriers, though.
Mark Driscoll, founder and director of sustainable food consultancy Tasting the Future, also points to "antiquated business and leadership models" and a culture that often struggles to see the benefits of radical transparency.
"Many businesses fear transparency because it doesn't tend to put a focus on what's good – it focuses on where the gaps are," he says.
As a result, even companies that have the necessary systems to be transparent tend to err on the side of caution: they use the data they have internally and with carefully vetted business partners, but rarely make it available to the public.
"Smaller companies in particular can be quite apprehensive about sharing information about who manufactures their products and the ingredients they use," says Baker. "They worry it might undermine their competitiveness."
Technologies like blockchain can help in that regard, she adds, because they allow companies to reveal selective information and provide transparency without disclosing every last detail of their operations. "If a company has some 'secret sauce' in their product, there are ways to be transparent while protecting the special sauce."
Having said that, certain segments of the industry – such as own-label manufacturing for major supermarkets – are steeped in a culture of such secrecy and confidentiality that it can be hard for suppliers to feel empowered to share information about their businesses. Baker does, however, sense retailers are becoming "more progressive" about sharing information about who makes their own-label products.
Shopper expectations
There's certainly no excuse for food and drink companies to not be transparent, says Driscoll. And with consumer expectations changing rapidly, the industry will have no choice but to be more open – especially if shoppers are already used to getting granular information from companies in other sectors.
"Consumers don't consider industry borders. Their expectations around the experience are fluid – if they can see exactly where and how their t-shirt is made, they will expect the same of their lunch," says Dawn McKerracher, managing director at digital design agency This Place.
"Transparency is no longer an option," agrees Driscoll. "It's a real necessity driven by consumer expectations."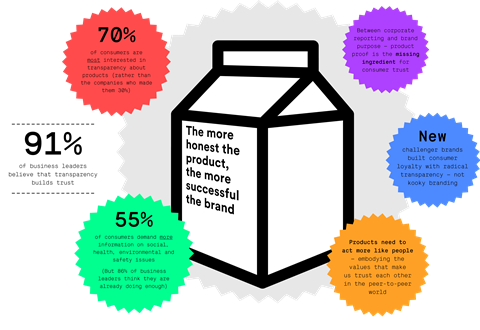 Crucially, those consumer expectations are increasingly moving towards the kind of product-specific transparency exmplified by H&M's new scheme, not the topline sourcing assurances common in food and drink.
A 2018 report by the Consumer Goods Forum and Futerra found 70% of consumers are most interested in knowing more about the social, health, environmental and safety impacts of specific products, with just 30% wanting information about the company that makes them.
Against this backdrop, the appeal of the H&M scheme is obvious, says Nick Carroll, associate director of retail at Mintel. "If we saw a similar move within the broader grocery sector, it could become a competitive advantage for any retailer who was able to be open in the same way."
The next frontier
Grocery companies that want to steal a march on the competition through transparency initiatives cannot afford to stand still, however. Because the bar for what it means to be transparent is being raised all the time.
Direct-to-consumer players in particular understand the potential of radical transparency for building consumer trust and loyalty – and they are quickly moving beyond basic sourcing and sustainability information.
Take ethical fashion brand Everlane, whose tagline is 'modern basics, radical transparency'. It provides shoppers not just with information about the factories where its garments are made (including an option to 'see the factory'), but also a breakdown of how the final retail price comes about.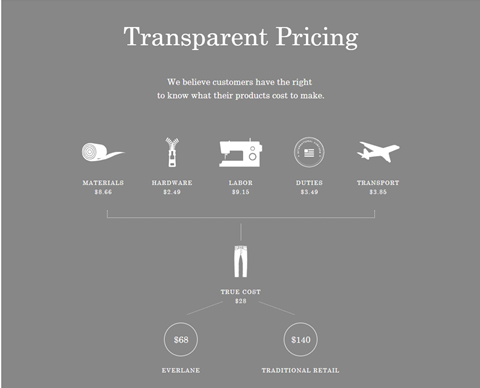 UK-founded DTC beauty startup Beauty Pie provides similar cost breakdowns for its products.
Consumers will be looking for similar levels of transparency from food and drink companies, believes Driscoll.
"The new frontier is stakeholder relationships," he says. "Things like gender splits, business ownership and wages. How much are these suppliers really paid? Where is the value created and who gets to benefit? Consumers are increasingly demanding that level of transparency."
Baker at Provenance agrees. "Pricing transparency is now pretty standard for DTC brands in many sectors, though it's interesting that we've not yet seen that in food and drink so much. I'd imagine box schemes would be well-placed to start providing greater pricing transparency."
With expectations around transparency growing all the time, it won't be long until someone in grocery – box scheme or otherwise – will seize the opportunity to differentiate through radical transparency. Those who aren't ready to be radically open about their products and business practices risk being left behind.


Julia Glotz is a freelance writer and editor. She was managing editor of The Grocer between 2014 and September 2019, and fresh foods editor between 2010 and 2014.

Julia frequently appears on radio and TV as a commentator on grocery retail and the politics of food and food sourcing, and has worked extensively on food authenticity and fraud issues. In 2013, she headed up The Grocer's coverage of the horsemeat scandal.

Prior to joining The Grocer in 2010, Julia was editor of New Media Markets, a trade publication for the TV industry. She started her career as a staff writer for The Legal 500 at publisher Legalease. @juliaglotz