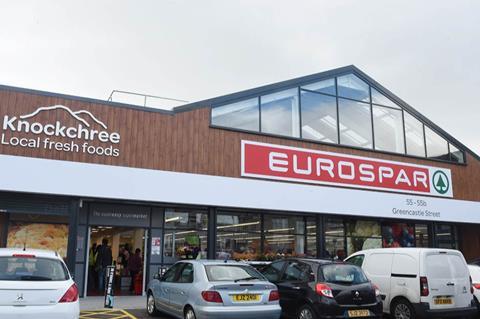 Henderson Retail has enjoyed a 17.9% boost in turnover to £571.7m for the year ending 31 December 2022, according to its latest accounts at Companies House.
The company, which owns 98 supermarket, neighbourhood, and forecourt stores across Northern Ireland under the Spar and Eurospar brands, put its results down to the cost of living crisis driving more frequent shopping missions to manage grocery waste.
Despite fuel volume declining by 0.5%, the "strong rise" in the cost of energy and fossil fuels meant fuel sales increased by 28%.
The accounts said an ongoing investment in retail pricing within its managed estate and "strong stock availability" were also key factors in its growth.
Upkeeping availability was becoming of "paramount importance" however, as supply chain and inflationary pressures mount up since the commencement of the Ukraine war.
"Supply chain challenges and inflationary pressures in the food and fuel sectors have been further exacerbated by the recent geopolitical evens since the commencement of the war in Ukraine," the accounts said. "These will require significant attention to maintain both turnover and profitability growth in 2023."
The future impact from Brexit and the Northern Ireland Protocol on the local economy and supply chain also remained "equally uncertain", but it anticipates the recently announced Windsor Framework will alleviate some of these challenges.
"The board continue to be alert to the risks and challenges presented by this high inflationary economic cycle but remains confident that our strong local convenience credentials, with best-in-class neighbourhood facilities, will provide a strong foundation to maximise other trading opportunities as consumers trend to more local core grocery and fresh food convenience shopping," the accounts said.
The company, which also boasted a 7.5% uptick in pre-tax profit to £20.8m, said it was continuing to invest in store formats, technology, IT systems, promotions, and a value-driven proposition for customers.
"It is expected that consumer price consciousness and competitive pressures within the grocery and fuel sectors generally will continue in 2023 given the economic inflationary pressures and cost of living challenges. The focus on driving like-for-like store and fuel sales as well as general operational efficiency within store operations will remain of vital importance for the foreseeable future," the accounts said.