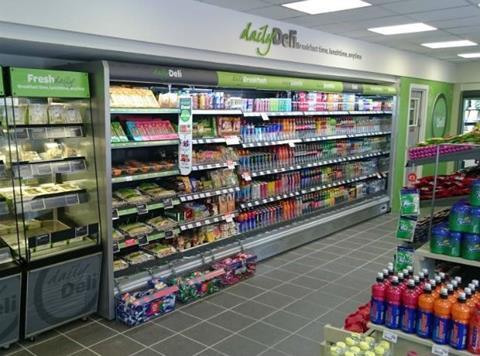 Spar is looking to reformat its Welsh stores with a stronger food-to-go proposition following the successful launch of its new-look Landmark Place branch.

The independent Spar store in Cardiff city centre expanded its food preparation area and dedicated more space to snacking and food to go to cater for busy customers as part of a refurbishment last year.

In the store's best week since the refit, sales increased by 10% year on year and boosted margins by 1.6%.

Blakemore Trade Partners, which serves hundreds of independent Spar stores, "is currently auditing its independent estate and talking to all appropriate retailers across the Meridian & Welsh Guild about the opportunities," said a spokeswoman, adding: "However, exact numbers cannot be confirmed at this stage."

Spar's Daily Deli branding was added to the store's exterior and interior to highlight the fresh and food-to-go credentials to customers.

Expanding into breakfast has also boosted Landmark Place's performance.

The 'Mighty Breakfast Baguette' has become one of the bestselling products within just two weeks. Baguettes freshly made in-store have made a margin of around 35% when included in the meal deal.

Installing a low-level, moveable chilled unit at the front of the store has allowed Spar to showcase its key lines to customers as soon as they enter the store, with an emphasis on meals for tonight through a range of chilled meals, desserts and alcohol. The unit also provides the retailer with the flexibility to change the product range depending on the time of day.

A freshly squeezed orange juice machine was also added to the shop, allowing the retailer to offer orange juice alongside a baguette as part of a £3.49 meal deal.

"Spar Landmark Place has been a really exciting store development for myself and the team," said AF Blakemore Daily Deli development manager Steve Barker.

"The store has made it its mission to cater for the busy, urban customer, throughout the day, and refitted and reformatted itself to deliver this.

"We think that Landmark Place points the way to where urban convenience is going, and we're looking to roll its format out to other urban store sites, so to see the strides the store has made since its refit is extremely pleasing."

Spar has an annual turnover in excess of £3bn and services more than 2,400 stores.