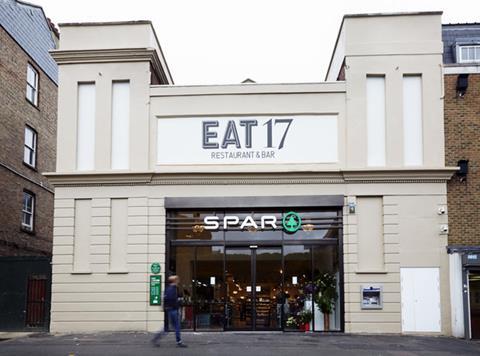 Spar UK has warned the convenience market is slowing down despite a strong retail sales boost.

The group reported a 4.5% increase in retail sales for the year ending 30 April 2016, but warned the 1.2% growth of the convenience market would slow due to increased competition from multiples within the sector, according to accounts filed at Companies House.

Spar, which now has 2,603 stores in the UK, said: 'Growth in the convenience sector has started to slow down as it begins to reach maturity.

'Investment in the sector by the multiples has slowed as it becomes hared to find good quality sites.'

The group attributed the retail sales growth to 210 new store openings and a 2.6% increase in average basket spend.

Total sales, which include the wholesale of Spar own-label and branded goods, are up 1.9% to £189m and pre-tax profits soared by 198%, which it attributed to the retention of £401,000 for a pension top-up payment.

Spar said it aimed to draw in more customers by building on the success of fresh food sales and its own-label offering as well as providing better store formats and initiatives.

Spar UK is owned by regional wholesalers AF Blakemore, James Hall & Co, Appleby Westward, Henderson Wholesale and CJ Lang.

AF Blakemore recently posted a 2.4% sales increase to £1.31bn for the same period despite 'significant levels of price deflation'.

Spar remains the largest single fascia retailer in the world, with stores in 43 countries and a global turnover exceeding €33bn.