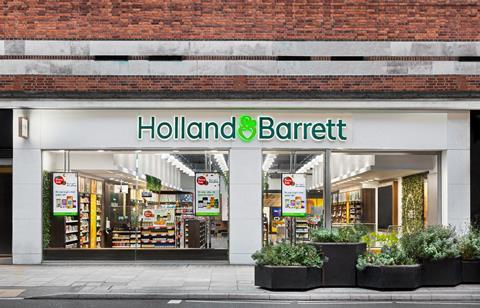 New accounts have exposed the scale of Holland & Barrett's financial struggles prior to its owner buying back £700m of its debt.
The UK retail chain slipped to a pre-tax loss of £31.5m in the year to 30 September 2022, down from a pre-tax profit of £43.6m the year before. This was despite a 1.5% rise in sales, which took revenues from £528.6m to £536.3m.
The company attributed a significant part of the loss to the £17.6m in exceptional one-off costs incurred through the closure of a net 17 stores, restructuring and the write-off of out-of-date stock following the Covid pandemic.
The filings from Holland & Barrett Retail, which represent its UK business and franchise stores, cover a difficult period for the health and wellness retailer.
In March 2022, its ability to pay creditors was affected by sanctions imposed against its former Russian shareholders following the outbreak of the Ukraine war. It also faced criticism from suppliers over its slow payment practices.
In November 2022, the chain's owner, LetterOne, completed a deal to buy £700m of its debt.
The deal left H&B "debt-free" and clear to push on with what directors hailed as an "ambitious transformation programme".
That includes a £350m investment aimed at streamlining the business, redefining its brand and improving its store footprint. The Grocer understands this also includes an overhaul of its food category, including own-label NPD.
In January, former Walgreens Boots Alliance co-COO Alex Gourlay joined as executive chairman to lead the transition, replacing the outgoing Michael Casey.
The business made little reference to Russian sanctions in its UK accounts, but the directors did address the supplier struggles, highlighting the importance of maintaining "positive relationships" with them.
"Holland & Barrett has continued to invest in its underlying systems and processes, which are creating firm foundations for growth," said CFO Nick Allen