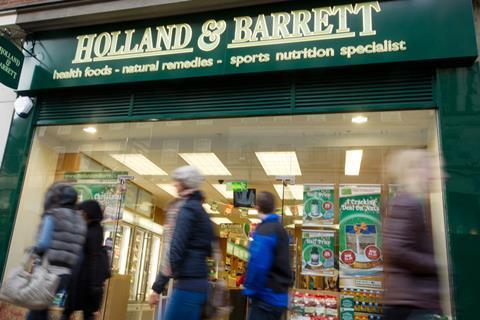 Holland & Barrett has said it has never paid dividend to its shareholders under the ownership of LetterOne, the investment company co-founded by oligarch Mikhail Fridman.
The retailer has also said it was not being affected by sanctions, as businesses face pressure to distance themselves from Russian investors.
Fridman resigned from the board of LetterOne, which bought the health & wellness retailer in 2017, last week as the UK and EU began cracking down on Russian banks and businesspeople with a barrage of financial sanctions.
"Mr Fridman has never sat on the Holland & Barrett board and has no influence or involvement in our business," the company said in a statement.
"Mr Fridman has never received any dividends from Holland & Barrett and is not entitled to receive any economic benefits from Holland & Barrett.
"Since the acquisition of Holland & Barrett in 2017, LetterOne has never benefited from cash dividends in Holland & Barrett. It has only invested money and has never taken any dividends."
Fridman jointly owned just under 50% of the investment company alongside Russian banker Petr Aven. Their minority shareholding in the company has been frozen, H&B confirmed.
Fridman stepped down shortly after being added to the European Union's sanctions list due to his alleged ties with Russian president Vladimir Putin. The bloc froze his assets in member countries and banned him from travelling within the region.
Chairman Mervyn Davies told the Financial Times LetterOne locked Fridman and business partner Aven out of its offices and has blocked them from accessing company documents.
Following the decision to separate Fridman from LetterOne's operations, Holland & Barrett said in a statement: "We stand with the people of Ukraine and have been deeply distressed by the invasion and humanitarian crisis.
"All of us at Holland & Barrett have been horrified and upset by the war in Ukraine. We stand firmly with the international community calling for a peaceful resolution to the invasion," it added.
"This is a time of great concern for us all, particularly those with loved ones directly impacted by the invasion of Ukraine."
Holland & Barrett said a number of its colleagues had been "directly impacted by the invasion" and that the company was actively supporting those in need by "providing time off, reduced workload and access to any counselling and support that they may need".
So far, it has provided over £380,000 of food supplies to the people of Ukraine – joining an array of other UK retailers that have rallied for support for the eastern European nation as the humanitarian crisis worsens.