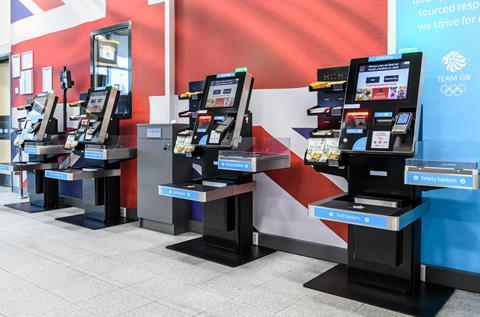 Aldi has rolled out self-checkouts to three of its Local branded stores in London.

The London stores join only one other UK Aldi to feature self-checkouts - in Tamworth, near the discounter's Atherstone head office, where the machines were introduced as a trial in April this year.

The Aldi Local fascia made its debut on a new branch in Balham, also in April, as way to distinguish between smaller stores in London from full-sized ones. In June, seven more London branches either converted to or opened under the new banner.

The stores are around 6,000 sq ft, less than half the size of a typical Aldi. Bigger pack sizes have been sacrificed to make a slimmed-down range, better suited to the absence of a car park, consisting of about 1,500 products. Aldi's usual centre aisle of general merchandise 'Specialbuys' is also absent, while food to go and ready meals are prominently positioned in bays at the front of store.
Three Aldi Locals, including the first, in Balham, a second newly opened store in a former Waitrose in Camden, and a converted one in Archway, now also have self-checkouts. Archway is Aldi's smallest UK store at around 5,000 sq ft.

Aldi maintains Local is not a convenience format but simply a vehicle for growing overall grocery market share in London, where sites of the preferred size of 65,000 sq ft including a car park are in short supply. It's understood there are no plans to use the sub-brand outside London, where larger sites are more readily available.

An Aldi spokesman said the self-checkouts were "very much about freeing up our people to spend more time on the shop floor with our customers".

"I would re-emphasise that this remains a trial and there are no plans for further rollout [of self-checkouts] at this stage until we fully understand the performance," he said.

Lidl is also eyeing smaller stores in London. The Grocer revealed in April it had cut its published minimum London unit size from 10,000 sq ft to 7,000 sq ft. That was followed in June by Lidl's announcement of a £500m expansion plan to open 40 new London stores including its most central yet, on Tottenham Court Road.

An Him report last month claimed both discounters posed a growing threat to convenience and independent retailers. 'It is hard to see how the introduction of smaller-format Aldi and Lidl stores will not impact convenience retailers,' the report said.