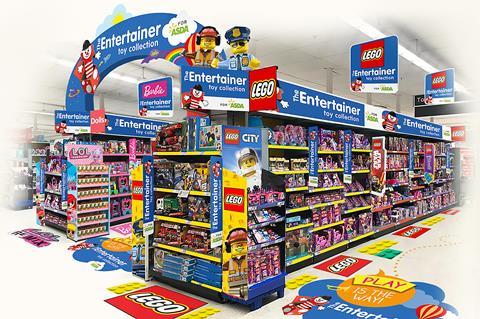 Asda is partnering with toy giant The Entertainer, as it expands its store-within-a-store programme ahead of completion of the Issa brothers takeover.
The exclusive partnership will see The Entertainer turn the toy categories in five Asda stores into branded concessions, which the supermarket said would offer customers a much larger range of toy products from leading brands such as Lego, LOL, Paw Patrol and Disney, as well as its Addo own-label range.
The deal has much scope for expansion, with The Entertainer boasting more than 170 UK stores and a further 300 globally.
The new concepts will launch early next year, with The Entertainer having full responsibility for product range, pricing and merchandising in these stores.
They follow last month's announcement that Asda was going into partnership with DIY store B&Q, in a new store-within-a-store concept to launch later this year.
At the time Asda said the move was aimed at capitalising on customers looking to cut down on their number of shopping destinations because of the coronavirus pandemic.
Last month, Asda CFO Rob McWilliam said partnerships with other retailers was a "core part" of the strategy planned under EG Group, whose £6.8bn bid to buy Asda backed by TDR Group was accepted last month, but has yet to be approved by the competition authorities.
Read more:
Asda has also announced it is expanding its trial partnership with music business MusicMagpie and a new partnership with Per-Scent, a branded fragrance distributor. The MusicMagpie partnership, launched as a five-store trial last month, will be expanded to a further 31 stores after proving highly popular. Customers can purchase a range of used DVDs priced £1 and £2 in store, alongside Asda's current entertainment offer.
The new partnership with Per-Scent, using the exclusive Fragrance Point brand, will initially launch at the Stevenage store, where customers can use a digital pod to order from a range of more than 300 branded fragrance lines for home delivery or collection in store via Asda's Toyou service. Later this month, the full Fragrance Point range will be available to purchase on George.com.
"The Entertainer are experts in toy sourcing and retailing so we are really excited to work with them and are confident their offer will prove very popular with customers, said Matt Harrison, Asda senior director of corporate strategy and partnerships. "We anticipate working with more great brands like the Entertainer and Fragrance Point in the coming months as we look to make our stores even better places to visit."
Gary Grant, founder and executive chairman of The Entertainer, added: "We are delighted to be partnering with Asda to bring the wonder of The Entertainer to their customers. The trial in five stores from February 2021 will give customers the opportunity to shop our range of the latest toys and games, including our great-value exclusive range from Addo, wherever is most convenient to them."