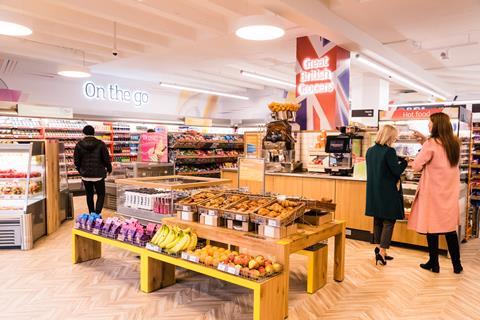 Sainsbury's has opened its first 'On the Go' city convenience store in London's Square Mile.

The supermarket said the new format brings "big innovation in small spaces for local shoppers".

The shop in Mansion House combines freshly made and prepared in-store food and drink with convenient ways to shop with Sainsbury's and Argos.

Nine more On the Go stores will open across Edinburgh, Bristol, Glasgow and London over the coming months, further testing the format in city centres. Sainsbury's said it had identified more than 130 Local sites in busy urban areas that could be converted into On the Go stores.

Using data and analytics, Sainsbury's has designed the 2,200 sq ft Mansion House Local to match the needs of busy city workers, with "expertly tailored" ranges.

The new format follows the recently launched neighbourhood convenience stores, which offer residents in the local community a one-stop shop for a broad range of food and general merchandise products as well as convenient services. Sainsbury's said the neighbourhood format had been a success.

At the new format in Mansion House, customers can choose to eat in-store from a range of freshly made and baked food from an in-store pizza oven, bakery and gourmet sushi concession, as well as hot porridge and drinks from a self-service coffee machine and orange juicer.

Products from counters have been brought to a 'grab and go' station, which is changed three times a day for breakfast, lunch and afternoon tea at the front of the store, and there are perch tables for customers to sit at while eating.

Almost 90% of the products available in the store had been picked specifically to meet the needs of Mansion House customers, Sainsbury's added.

Along with a wider selection of fresh food and floral products, some top-performing specialist and premium brands from Sainsbury's supermarkets, such as Tony's Chocolonely and Leon Grocery, have also been added to shelves.

Customers can also shop till-free using the SmartShop mobile app and rapid-exit checkouts offered a quicker till experience, the supermarket said.

Argos and Tu clothing click & collect are also available.

"Convenience is a growing part of our business and we have greater capability than ever to truly tailor Local stores to local needs - across our products, formats, services and operations," said commercial operations director Graham Biggart.

"Our new On the Go Mansion House Local is a great example, bringing a new kind of convenience to busy local workers with limited time and delivering the curated range and fast experience that will enable them to get exactly what they want at pace. We're confident this format will further strengthen our market-leading position in convenience."

Mansion House store manager Donna Emerton added: "We're really excited to bring local shoppers our new Mansion House store. By focusing on fresh 'On the Go' food and drink and making it even easier for customers to shop quickly and conveniently, we're well-placed to bring busy city workers everything they need under one roof."

Sainsbury's said that by the end of this financial year (March 2020) it would have invested significantly in improving 200 of its 807 convenience stores, with further upgrades and investments planned across the estate this year.

The UK food-to-go market is set to be worth £21.7bn this year, a rise of 2.7% on 2019, according to exclusive research released last week from MCA and Him. The report showed, however, that the likes of Sainsbury's and Tesco were registering weak growth in the market compared with foodservice brands such as Greggs and Pret a Manger. It also forecast that c-store and supermarket grab-and-go had lost share of the food-to-go market from 2014-2017 to 2017-2020 as key operators struggled to maintain innovation and reported weaker sales growth.