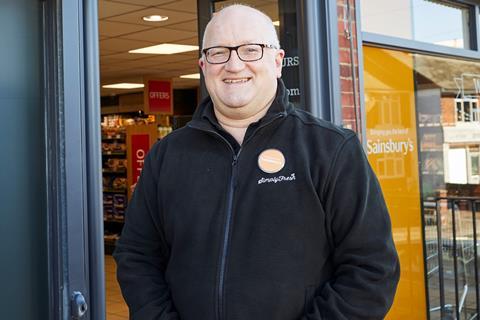 Independent retailer Steve Bassett has seen sales at his recently converted SimplyFresh Sainsbury's store soar up to 70% since it opened last month.
SimplyFresh Bitterne Park, which opened on 10 February, is Bassett's first shop with SimplyFresh having converted it from a Londis. The store is part of SimplyFresh's new supply deal with Sainsbury's.
Sales on Valentine's Day weekend jumped 70% compared to the same period the previous year while the first week saw sales grow 29% year on year.
Bassett said the new "enticing" store has attracted new customers, with existing customers positively commenting on the "look and feel" of the store.
"My customers have told me I made the right decision and the tills back that up," explained Bassett. "My regulars are buying items they never thought would be available in their local store and my objective of changing the customer mission is already taking shape. I'd always admired SimplyFresh stores from afar and seeing your own store undergo this kind of transformation has been truly invigorating. When you partner all of that with a massive range from Sainsbury's, immediately delivering exceptional results, I believe it absolutely validates the decision to join."
The store opening comes after The Grocer revealed in February that SimplyFresh had mounted a recruitment drive to sign 30 new retailers to its Sainsbury's partnership this year.
SimplyFresh CEO Tim Chalk said: "At SimplyFresh Bitterne Park, customers now have a transformed local store that delivers them a better range, better value and a better shopping experience. Steve and his excellent team were fully involved every step of the way and we are all very proud to bring this store, in close partnership with Sainsbury's, to this community. The feedback from customers has been overwhelmingly positive. You can see the confidence they have in the Sainsbury's brand and fresh products, and this in turn is encouraging bigger basket spend. It's a strong platform for future growth."