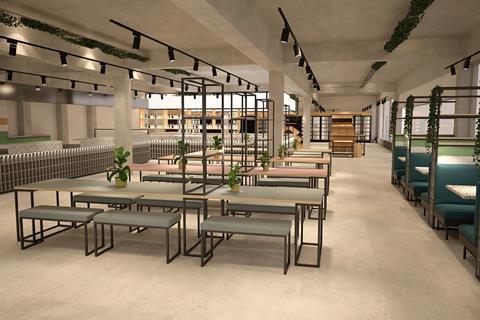 Symbol group Simply Fresh is set to open a new concept food hall store in June, with four food concessions, a bar and live music creating a 'convenience plus' space.

The 6,000 sq ft food hall, owned by independent retailer Mital Morar, based in Stretford Mall in Manchester is due to open on 1 June. It will employ 15 to 20 staff.

Morar told The Grocer he was expecting half of the overall sales to come from the convenience store and half from the concessions. The concessions will also offer home delivery via Deliveroo.

There will be a strong focus on plastic reduction in the c-store, including the use of refill cylinders. In total Simply Fresh and Morar are set to invest £300,000 in the new flagship site.

Simply Fresh COO Kash Khera said a second, larger company-owned food hall would be opening in Birmingham later in the year. With plans to seat 200 to 250 people, it will house a small cinema area, have a stage, DJ booth, two bars and offer eight food concessions.
"It's more than a convenience store, it's convenience plus plus," said Khera. "We are bringing ideas into a convenient space. What we are doing is giving more reasons to drive footfall. You can't just retail to people every day. 'Retailtainment' is what we feel is the future of c-stores."

A third company-owned food hall is also due to open in London this year.

Simply Fresh currently operates 85 stores, and Khera said he planned to add another 30 this year. Eleven have already been agreed with franchisees and at least four will be company owned. This push will also involve adding to its portfolio of smaller hospital stores, opening six more in 2019.

Khera said discussions were also taking place with a 5,000-staff 'super hospital' with regard to opening a food hall-style store that would focus on patient welfare.