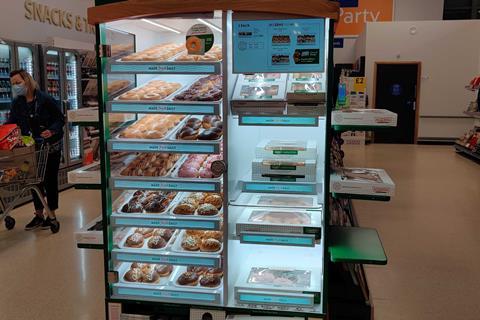 Tesco is set to roll out Krispy Kreme digital doughnut display cabinets to a further 140 stores, following a trial in 15 branches in January.
Tesco said the exclusive partnership had proved popular with shoppers, made the category easier to shop and attracted new customers to doughnuts.
The cabinets come with digital screens to allow tailored marketing, as well as motion-activated digital shelf edge labels offering product information – including full ingredient specifications, which allow customers to check for allergens. "It's nice to have a positive story in what has obviously been a challenging year for everyone," said Krispy Kreme UK sales director Suk Nicholas.
"The initial trial in 15 stores has gone very well and we are now pleased to continue the rollout into many more. "The investment required represents a significant capital expenditure for our business, but it helps deliver a magical brand experience and that's why this is just the start of our evolution over to a 100% digital cabinet world,"
Tesco category buying manager Amanda Hart added: "We're pleased to roll out these exclusive state-of-the-art digital Krispy Kreme cabinets into a further 140 Tesco stores. The trial proved very popular with customers, and we look forward to more success with Krispy Kreme in the future."
Krispy Kreme works with IT specialists Theravada, who supply the software and hardware for the cabinets.