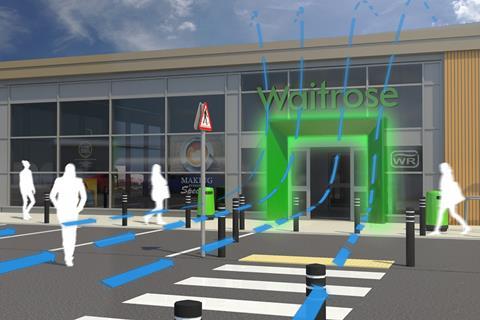 Waitrose is set to become the first business to employ a new energy saving technology which its inventors claim could save UK retailers £1.5bn a year.
The upmarket grocer is installing AirDoor in its Berkhamsted store later this year. The system, created by Wirth Research, aims to allow retailers to operate with doors open during trading hours, while having the energy benefits of physically closed doors.
Sensors placed in a frame around the existing entrance are used to detect airflow in both directions, which is then counteracted by an opposing, self-generating wind which creates an invisible, active "barrier".
If the Berkhamsted trial is successful, Waitrose is planning to roll out the technology to at least three more stores.
"We are always looking to find innovative ways to reduce our impact on the environment and while we know we still have a lot of work to do, the potential of the AirDoor could be key in helping us make our shops even more sustainable in the future," said Waitrose & Partners technical services senior manager Jim Burnett.
Wirth Research received funding for the project from Innovate UK, a government scheme that aims to reward innovation.
The tech company estimated stores spend between £5,000 and £10,000 annually to compensate for energy loss. It said if a £5,000 loss was applied to all of the UK's 299,415 retail outlets, this would cost £1.5bn.
"AirDoor represents a solution that improves the customer experience, delivers annual energy savings and reduces carbon emissions – exemplifying Waitrose as a standard-bearer in the supermarket industry when it comes to green thinking," said Wirth Research president and founder Nick Wirth.