Supermarkets have long been tackling issues like energy usage, plastic and food waste. So how would the ultimate green retailer do things differently?
Supermarkets have long been touting their sustainability efforts. After all, it was way back in 2013 when Tesco introduced extra-long refrigerated trailers to slash CO2 emissions. In the same year, Sainsbury's backed a scientific project in Kent to reduce the amount of water used to grow crops.
These efforts have only grown of late. Asda opened its first 'refill store' in 2020, selling a range of branded and own-label products in loose format. And just this month, Morrisons revealed plans to become the nation's first "zero waste" supermarket, while Waitrose announced "significant" plastic reductions in household and bathroom lines.
But what if, rather than being spread across time and place, this multitude of eco-moves was brought under one roof? What would the ultimate eco-supermarket be like?
The logical starting point is the fixtures and fittings. Holly Hallam, MD of DesignLSM, suggests cutting the need for electrical lighting to a minimum by having "a lot" of glass windows and skylights, to let in as much daylight as possible. At night, UV lights will help eliminate viruses from surfaces.
The floors, Hallam adds, ought to be bio-concrete made from waste organic materials, such as shells, sand and knotweed. The material has "amazing solar capture" that helps maintain a building's ambient temperature by releasing heat when the mercury drops.
Plus, timber terrazzo (sheet material made from recycled timber chip), rammed earth (compacted earth, sand and other natural materials) and mycelium (an extremely hardy fungi) are ideal for the likes of countertops and interior finishing, she says.
Not only would this benefit the planet, it can be good PR too. "Utilising sustainable materials is not just an environmental benefit, but can also be a means of communicating a brand's core principles and ethics," Hallam says.
When it comes to kitting out the store, inspiration could be taken from CornerShop in London, suggests Christopher Baird, director at Capgemini and one of its creators. It features a vertical farm offering 'pick your own' herbs, while a wealth of tech helps shoppers "make more informed decisions".
"Many of the concepts explored in CornerShop bring sustainability into focus throughout the shopping journey, helping consumers to reduce their impact on the environment," Baird says.
Being a small, single venue, of course, means CornerShop doesn't face some of the tougher sustainability challenges experienced by large supermarkets. A sizeable workforce is one such example. It can be made more eco-friendly by encouraging greener commuting through a cycle to work scheme and car sharing, says Lizzie McManus, founder of Warrior Agency.
For even greater impact, consider a sustainable pension fund, she adds. "Changing to a sustainable pension fund is 21 times more effective in reducing carbon footprint than going veggie, switching to a green energy provider and stopping flying combined."
The possibilities for the ultimate eco-supermarket seem endless. With that in mind, we challenged five agencies to come up with their own ideas on what it should look like. Here's what they suggested.
The power of product 'planet impact' labels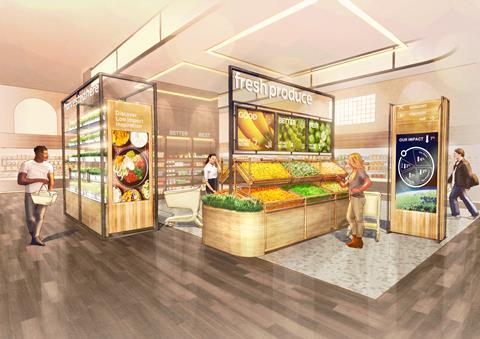 "Simply getting greener isn't good enough. You can't look at sustainability through the simplistic lens of ecological impact," insists VMLY&R Commerce creative director Richard Hartle.
"True sustainability becomes a combination of environmental, social, cultural and economic input," he says.
All of which is considered in VMLY&R's vision of the ultimate eco-supermarket. It poses the question: what if every product had a 'planet impact' label?
In essence, this is similar to the traffic lights system. But instead of covering only nutrition, it also looks at food miles, carbon emissions, ethical credentials, water use and much more.
It may sound similar to Eco-Score, but this goes one step further. Supermarket aisles are arranged by impact score – in 'good, better, best' style – and each receipt tracks the consumer's total impact.
"That would help us, as shoppers, to make better, more informed choices," says VMLY&R head of retail Tom Moore.
The store-wide system is supported by digital screens showing in real time the branch's overall impact score from sales, while low-impact meal suggestions are displayed in the aisles.
Shoppers can even sample some of those meals at an in-store café run by local chefs using local produce.
How AI can benefit buying
Cutting-edge technology is the solution for making grocery significantly more sustainable. So believes Digitas UK.
It envisages a world of domestic 'smart fridges' that use supermarket loyalty card data to make meal suggestions. Food and drink will no longer feature 'use by' and 'best before' dates. Instead, shoppers scan their food at home with their phone. Nanowire sensors in the device alert the user to chemical signatures given off when the product is no longer safe to consume. This reduces needless waste caused by expiry dates, Digitas says.
But that's a futuristic notion. At present, established AI could make supermarkets greener, suggests the agency's chief experience officer Jane Austin.
AI can perform tasks that would require hundreds if not thousands of humans to complete – and can be used in a number of ways, she says.
Arguably, its most significant impact would be in ordering fresh food for retail, which presents a sustainability challenge because orders are "decided at store level using outdated technology, resulting in logistical challenges and food waste".
AI could centralise buying for all supermarket branches, setting prices and accurately predicting demand for each site, as well as dynamically reducing prices as the food on shelf ages – thus helping to minimise any waste.
AI could also allow stores to act like Amazon, becoming a "nimble and responsive" platform for all sorts of local goods, which require fewer food miles and typically use less packaging, she adds.
It could even "reverse" how people shop. Instead of filling their baskets first and deciding later on what to cook, they could plan meals in advance and the tech would gather together all ingredients, not just from the supermarket but from specialist suppliers such as Oddbox and Milk & More.
Using potatoes to power our shops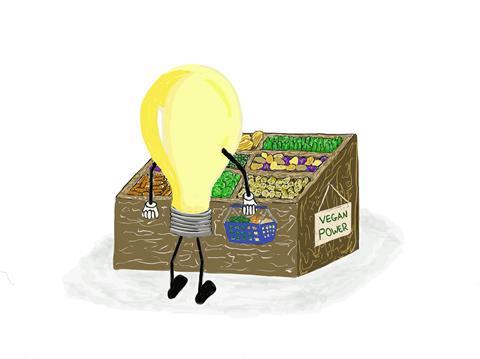 The power of veg is key to Who Wot Why's vision. It's inspired by "the humble potato clock, an experiment familiar from our primary school education" say creatives Aaron Furman and Charlie Hue Williams.
The spud timepiece is more than just an educational tool, they point out. It has "sparked research worldwide with a single question: could this become a viable energy source on an industrial scale?"
They point to a 2010 study by the Hebrew University of Jerusalem, which found one potato could generate enough electricity to light a room for 40 days.
"Equally, a study conducted at the University of Kelaniya discovered that boiled plantain piths could generate 500 hours worth of LED power," they add.
The science works by placing the acid-rich vegetables between an anode and cathode, causing a chemical reaction that allows the electrons in the vegetables to move freely, creating a current.
"One could hypothesise that waste vegetable produce from supermarkets could make an ideal self-supplying energy source," say Furman and Hue Williams.
Specially designed vats with an anode and cathode at either end would house expired veg. "Once the extracted energy source has been depleted, the contents can be replaced with further expired produce, while the now-exhausted vegetables are recycled into compost to begin their journey again."
But there's a caveat to this solution. "We must ponder the potentially adverse consequences," the creatives add. "A truly sustainable future would have zero food waste. Would we be sacrificing a zero-waste model, if waste became our source of energy?"
The Conscious Co-operative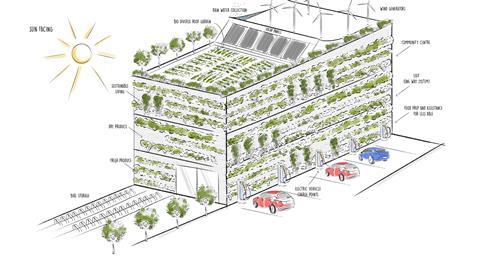 The brainchild of BMB, the Conscious Co-operative is "a store that positively contributes to both the environment and to society more broadly" says strategist Amy Bowker. "Not only does the store operate self-sufficiently, it gives back to its local community."
Greenery covers the Conscious Co-operative's outer walls. The walkway into the heavily insulated, three-storey building is wheelchair accessible, with bike docks and electric vehicle charging stations lining the walls.
As with many regular supermarkets, the fresh aisle is closest to the front door. This one, however, is free of plastic and packaging, with shoppers encouraged to bring their own bags. Locally grown, seasonal produce is offered at the lowest prices.
Aimed at elderly and disabled shoppers, there is a preparation station at the back, where fruit and vegetables are peeled and chopped by members of staff free of charge.
Floor two of the Conscious Co-operative is dedicated to dried and frozen foods. Dispensers filled with everything from oats to spices and frozen berries are arranged in rows, with reusable containers available for shoppers to buy.
Presses and grinding stations are also on hand, allowing shoppers to make their own nut butter, jams and fruit juice.
There are two sections on the third floor. The first is dedicated to household and personal care goods such as plastic-free shampoo bars.
On the other side of the floor is a community hub featuring services like a food bank, a mental health drop-in clinic and a community-run café.
Finally, the Conscious Co-operative's roof is accessible to all. It features a community-run garden that grows produce for the store. Solar panels and wind turbines provide all the building's power, and a rainwater collection is used to flush the toilets.
Supermarkets as educational spaces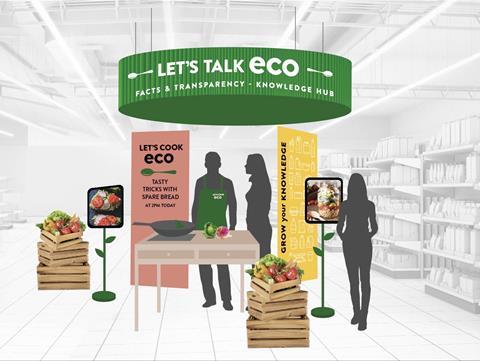 There are "a lot of incorrect perceptions around sustainability among consumers", says Chris White, MD & founding partner of This Way Up. "Confusion is leading to apathy and inaction among some."
There is, therefore, a need for an eco-friendly supermarket to be a space for education, offering "facts, transparency and environmental truth" alongside groceries.
The store would have experts on hand, perhaps at designated 'knowledge hubs' where shoppers can seek one-to-one advice.
They could also watch demonstrations on how to cook using leftover ingredients to avoid food waste or upcycle waste ingredients like coffee grounds.
Shoppers could even try their hand at preparing sustainable cuisine in-store, in a community space that would hold cooking schools or discussion nights for shoppers to share eco-friendly ideas.
One aim of such activity, says White, would be to debunk sustainability myths, such as paper being the most recycled material on the planet. (It is, in fact, widely believed to be steel.)
Brits also face conflicting views on the use and recyclability of plastic, he adds. "We actually need plastic. PET is the fourth-top recycled plastic."
Consumer education could be furthered by solar-charged smart trolleys, teaching people the difference their shopping makes to the environment.
"Each trolley is embedded with technology that automatically scans the items when loaded in the cart," White explains.
"This will total all the carbon footprint, food miles, CO2, pesticides used in farming as well as other environmental or health factors."
This article is part of The Grocer's Green Issue
Sponsored by