Scan & go offers a convenient way to shop without staff interaction. That's a benefit in the pandemic, but will it tempt shoppers in the long term?
If you've been to a Sainsbury's store of late, chances are you will have noticed the push towards scan & go. In the wake of the coronavirus outbreak, staff have been actively recruiting customers to its SmartShop system – either using a self-scanning device, or the supermarket's equivalent app.
With availability now practically estate-wide in one or both formats – 450 locations came online last year – boosting take-up is now an official policy of the supermarket. SmartShop has also been heavily promoted through social media, in-store signage and radio ads. The aim is to help "limit interaction between customers and colleagues", Sainsbury's says.
Customers have responded in kind. Just before Christmas, an average 15% of sales went through SmartShop in stores where handsets were available, which was considered a significant success. In the past quarter, that percentage has rocketed to 37% of all sales. In some stores, the figure has exceeded 50%.
Sainsbury's is not alone in seeing demand for scan & go options rise. Many of the mults have been busy accelerating rollout plans.
Asda has made mobile scan & go available in every one of its 581 stores, 200 of which went live during lockdown. M&S doubled the number of stores offering Mobile Pay Go to 100 in April. Tesco, which has Scan as You Shop available in 573 large-format stores, confirmed to The Grocer it had seen a rise in usage over the past few months. And Waitrose said staff would be guiding customers towards its self-service technology where possible to aid social distancing.
It's not just the mults making the most of self-scanning. Convenience players like Co-op, Londis and Budgens are also backing the technology.
So what are the benefits of scan & go at this time? How are retailers marketing their systems to customers? And what is the future for the shopping method?
There's no doubt the pandemic has accelerated uptake of self-scanning. Although solid data is scant at present, "we've seen in some cases a doubling or more in adoption over the pandemic", says Mark Thomson, retail industry director at self-scan device maker Zebra, whose devices are found in Sainsbury's, Tesco, Asda and Waitrose.
Scandit, a company that supplies the barcode reading capability to many supermarket apps, has also seen usage of self-scan rise among its clients. "We're being asked to help bring forward existing plans and accelerate rollouts," says the company's chief technology officer Christian Floerkemeier. "In fact, since Covid-19, some of our customers have seen the number of in-store transactions completed via self-scan apps double."
"The self-scanner allows the shopper greater control over the number of people they need to interact with"
In an era of heightened hygiene concerns, an increase in the use of devices that pass through hundreds of hands seems peculiar. But it's a matter of feeling in control, says Will Morgan, associate director of behavioural psychology research group Spark Emotions.
"Whilst it may seem counter-intuitive, the self-scanner actually allows the shopper greater control over the number of people they need to interact with on a given shopping trip. They can clean the scanner themselves, and they don't need to have contact with any checkout staff, who would normally be touching the shopper's products as they are scanned," he says.
"This level of control can translate to a more pleasurable shopping experience," Morgan adds.
His last point is important. Enjoyment of a supermarket shop has all but disappeared during Covid-19. Health fears mean customers are spending less time in stores, and visiting less often. Kantar figures taken in the middle of lockdown showed households made a record low number of trips to the supermarkets.
That massive drop in frequency has led to highest-ever average basket sizes – another trend that plays into the scan & go proposition, according to Zebra's Thomson. "There had already been a gradual increase in the use of self-scanning," he says. "But we saw almost as soon as the pandemic hit customers suddenly saying 'if I can get away with shopping once a week or a fortnight, that's what I'll do'."
Bigger baskets usually require more time spent "facing off" with checkout staff. Self-scanning enables customers to get around that. "They want to get out as quick as they can with as little contact as possible," Thomson adds.
Macro-economic factors are also feeding into the boost in usage. A common feature of the apps and devices is something that will appeal to shoppers as a recession looms: a running total of their shop.
"For many people in the UK, household finances have been significantly affected by things like furloughing, redundancies, and reduced working hours," says Morgan of Spark Emotions. Being able to continually view costs gives them a sense of "greater control".
Perhaps unexpectedly, that running total typically encourages users to spend more than normal. "Now they can track spend as they're going, they're saying 'I can take that extra one or nicer one'," said Michele Swaine, Sainsbury's head of digital product, speaking to The Grocer earlier this year. "They can manage their budget and therefore spend up."
As Thomson puts it: "It's your calculator. So people go right up to their limit."
The more advanced features also play into the era of social distancing. Several of the scan & go apps and handsets have a shopping list feature, which allows shoppers to upload a digital shopping list and have it rearranged in the order that items appear in the aisles. It's easy to see how the feature could be used to manage crowd flows around a store more effectively than a one-way system.
How Amazon is using 'intelligent' trolleys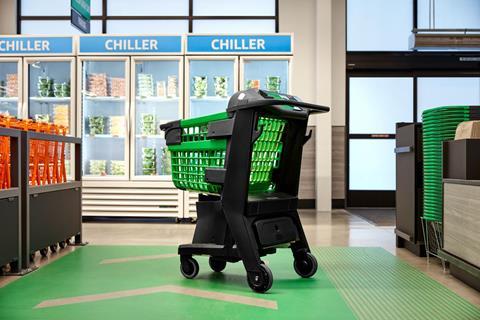 Amazon this month revealed its latest innovation – the Dash Cart – which will be available for customers to use at its first large-scale grocery store in Woodland Hills, California, when it opens later this year.
The online behemoth is pitching it at shoppers who are popping in for only a bag or two of groceries as a way to "skip the checkout line and roll out when you're done".
In essence, it promises similar benefits to Amazon Go, without committing the whole store to a 'just walk out' system. This technology is less dazzling, but it also promises to be less pricey and fraught with the technological hitches that have plagued Amazon Go stores.
The Dash Cart uses a "combination of computer vision algorithms and sensor fusion" to identify items when they are placed in the trolley. However, an accompanying demonstration video indicates barcode scanning will still play a part.
If an item is successfully recognised, the trolley beeps with approval. An orange warning light indicates when an item has not been recognised, akin to the "unexpected item in the bagging area" alert on self-service checkouts.
For fresh produce, a SKU number must be entered on the on-board touchscreen. The trolley weighs the item and its weight is approved on screen by the shopper.
Having already signed into their Amazon account – receiving a QR code that is scanned to start using the Dash Cart – users simply "roll through the Dash Cart lane" once the shop is complete, take their bags and leave.
Granted, Dash Cart is not an entirely original idea. A startup called Caper released a similar cart concept – albeit with an on-board EFTPOS machine so the cart can take card payments – in 2017.
In a blog post responding to Amazon's announcement, Caper co-founder and CEO Lindon Gao wrote: "After years of pursuing expensive full-store implementations for cashierless transactions, this strategic shift shows that Amazon has come to realise what we've known all along."
Beyond the pandemic
These benefits aren't confined to the peculiar nature of the pandemic, though. At least, that's according to Will Broome, CEO and founder of white label scan & go app provider Ubamarket, which is working with several Londis, Budgens, Spar and Eurospar stores.
While the uptick in adoption "can of course be attributed to the hygiene and safety concerns" of the crisis, he says it also highlighted "a number of pre-existing problems with the way we shop". Broome believes a new wave of shoppers are now seeing the benefits of its tech, such as the 'sat nav' for finding items and 'pay in app' option. "It's encouraged many people who were used to a traditional, outdated customer experience to make use of new tools and technologies to improve their experience," he says.
There are benefits for supermarkets, too. Ubamarket's sat nav feature means shoppers can be guided to the item they are looking for, rather than demanding the attention of staff.
In the future, Zebra's Thomson can see hyper-personalised, dynamic promotions coming into play. Having scanned a product, a customer might be pointed to another item on offer in the same aisle. There's potential for a customer to share their allergies or health goals and have alerts and guidance popping up on their device as they shop. "As retailers see the adoption rate increasing they'll be a lot smarter about adding additional features to it," he says.
Since users typically need a loyalty card to use scan & go, the retailer can also learn a great deal about the customer holding the device. "Where supermarkets want to go is to use the fact you've got a five-inch screen sitting in front of a customer's face," says Thomson. "You know who that customer is and you know the product they've just scanned. You know location, you know what they're buying, you know what their history is. Bring all that together – that's really powerful."
Long-lasting adoption
These benefits suggest self-scanning is far more than a flash in the pan. Indeed, it was growing even before the crisis hit. Zebra, which dominates the UK self-scan handset market with its devices – branded Zebra, Symbol and Motorola – has seen adoption grow steadily over the past five years. The technology had reached between 15% and 20% of transactions in the stores where it operates, says Thomson.
Scandit's Floerkemeier believes the spike in appetite for scan & go is likely to carry on for some time. For starters, "Covid-19 and social distancing will not be over any time soon", he says. "Retailers that are quick to adapt to the new demand for contactless retail will be better positioned to succeed."
Even once social distancing has subsided, experts doubt usage of scan & go will revert back to previous levels. The biggest barrier to adoption is trial, Thomson explains – and the pandemic has encouraged many shoppers to take the plunge and try it for the first time. "People look at it, aren't sure, don't want to look stupid, so they leave it. But once they do use it, they tend to carry on using it," he says.
Crucially, an attitude change is also happening within the supermarkets, Thomson adds. "Supermarkets have realised you don't need a technology that every single customer uses, but that a reasonable proportion want to use because it makes their shopping journey easier.
"They've realised they have different kinds of customers and they want to shop in different ways," he says. "It's about having the right mix. Not about one killer technology."
If he's right, the pandemic could be just the start of the scan & go revolution.
The future of scan & go: new features to improve customer experience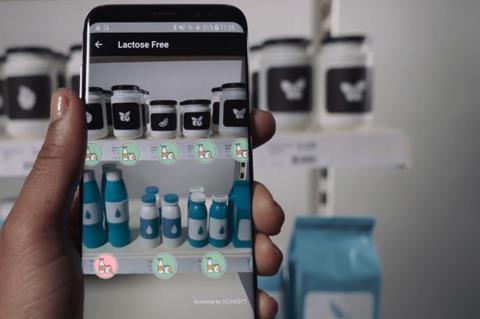 AR product information
There is huge potential for augmented reality to play a role in self-scan apps, says Scandit CTO Christian Floerkemeier. He can envisage scanning products to see allergens or nutritional information on screen.
"When I go online shopping and say I'm vegetarian, I click one button and all the meat products disappear. In the store that's not the case. In a store, finding an item is harder. Online I see all the ratings of all the products – I'd love to go into a store and see them too," he says. "And with AR that's possible."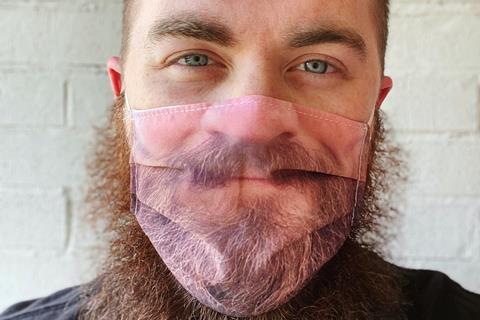 Facial scanning for restricted items
One weakness of self-scanning, be it via handheld device or mobile, is the need for a member of staff to approve the sale of age-restricted products, which adds friction to the process.
The latest iteration of Ubamarket's white-labelled scan & go app, released in February, includes a facial recognition feature. If a shopper has already uploaded a valid form of identification into the app, the app can use their smartphone's camera to verify the buyer is of legal age.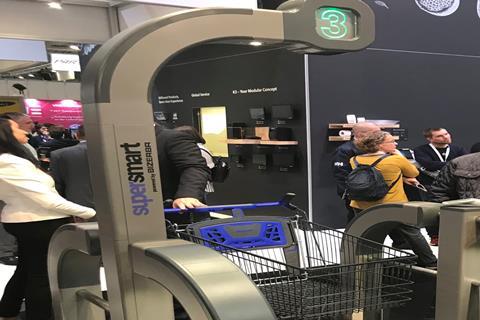 Walk-through loss prevention
One issue facing scan & go systems is the high risk of shrinkage. To avoid and deter losses, often stores will carry out random checks, which can hurt the customer relationship.
Israeli startup Supersmart claims to have the "world's first scan & go loss prevention system", which can validate that a basket or trolley load of goods have all been scanned by the customer in a matter of seconds. Validation is done by weighing a basket or trolley, with additional checks aided by computer vision.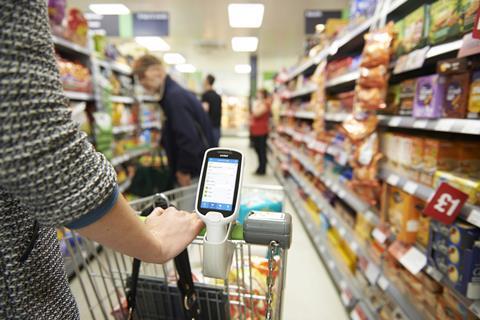 Reducing payment friction
One of the remaining points of friction in scan & go is payments. With handheld devices, typically customers must go to a self-service checkout or return to the device bank to pay.
Latest iterations of self-scan systems are removing this hurdle by accepting payments in-app. Sainsbury's was the first UK supermarket to provide in-app mobile payments in 2018. Co-op began trialling Pay in Aisle last year, and M&S started rolling out Mobile Pay Go in February, following an 18-month trial of the system.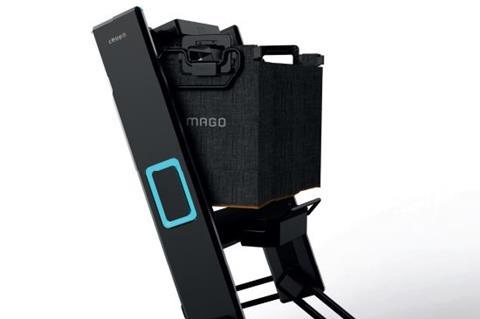 Self-scanning shopping trolleys
While Amazon's new Dash Cart hit the headlines this month, earlier this year Polish company Mago – best known for its store fittings used by the likes of Tesco, Auchan and Carrefour – unveiled its own concept self-scan shopping trolley.
It works in a similar way but is far smaller in design, meaning it is more applicable to a c-store setting. It also lights up in various colours to show it's in use or assistance is needed. Payment is made via a mobile that is "paired" to the cart, or at a self-service checkout.