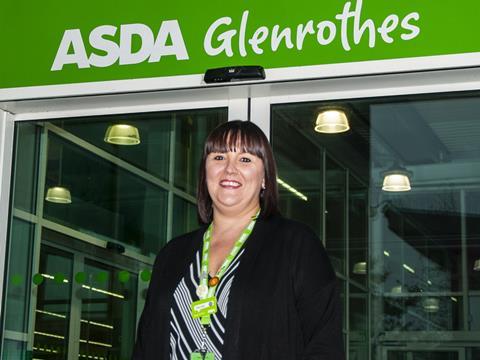 How is Christmas trading going? Very well. We've been concentrating on making sure we have great availability across our essential lines. We've got good stockholding and I'm confident we have good availability right across the festive season.

Are people looking for bargains or luxury items for presents? Price is important but they are looking for innovation as well. Our foot-long pigs in blankets are getting people excited, but they still want a bargain.

What's the best festive innovation this year? I love our Christmas Eve present boxes. They did well last year but this year we have three different designs and we also have a My First Christmas present box.

Did you miss out by not having Black Friday? We had our Green is the New Black promotions and there were some fantastic deals, especially on big-screen televisions and huge unicorns.

Have you made any big changes recently? We've just had Scan & Go installed. We are the first store in the town to have it, but it seems to be the older ones that are really enjoying using it.

Does Scan & Go mean getting rid of checkout staff? It has meant having fewer tills but instead of having staff at the tills we have people helping in the Scan & Go area.

Do you have an online hub? This is the biggest store I've managed, with the biggest online operations. It does make the job a lot more complicated but it's also a great challenge.

Are people booking online slots or do they prefer to shop in store? Many customers buy online. Our click & collect slots for the Sunday before Christmas are already full.

You have many competitors on the same industrial estate. Do you visit them often? I visit them a lot. I've got a Morrisons, Aldi, Lidl and a new Iceland Food Warehouse on the doorstep. I check out what they are up to but am confident we are better.
Winner: Asda Fullerton Road, Glenrothes
Store manager: Sarah Wilson
Opened: 2009
Size: 49,000 sq ft
Market share: 29.3%
Nearest rivals: Lidl - 0.4 miles, Aldi - 1.3 miles, Morrisons - 1.4 miles, Iceland - 1.5 miles
Store data source: Analysis by CACI. Call the market planning group on 020 7602 6000