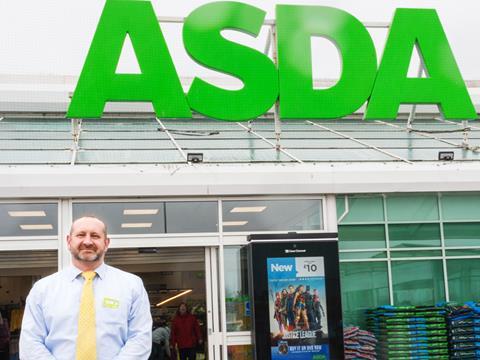 Roger Burnley spoke this week about winning back shoppers with prices and technology. Is this working in your store? We are winning back that trust. Sales on all the Rollback items are flying and there is a lot more to come. On 15 April we are launching the in-store marketing around Rolled Back, Staying Back. So far there have been about 450 lines in store but I'm sure there are a lot more to come. The aim is that these cuts are over at least 17 weeks.
Winner: Asda Kilmarnock
Store manager: George McFarlane
Opened: 1998
Size: 40,000 sq ft
Market share: 18.9%
Nearest rivals: Tesco - 0.5 miles
Lidl - 0.8 miles
Morrisons - 1.1 miles
Aldi - 1.9 miles
Store data source: Analysis by CACI. Call the market planning group on 020 7602 6000
What about the technology side? The biggest impact we are seeing is the improvements on availability online and in store using new systems. One of the fastest-growing areas is our click & collect service. We are the biggest click & collect operation Asda has in Scotland. Last week we had 70% year-on-year increases in sales.

Your store is 20 this year. Are you doing anything to modernise? We are having a £1.7m refit in July, which will include new refrigeration, new chilled equipment, a new bakery and a new George and GM department.

Apart from the Rollbacks, how else are you taking the battle to the discounters? On Monday we launched a new round of 20p veg promotions, which is something we did at Christmas. The customers love it and I think it's the sort of thing we can expect more of.

How do you stand out apart from price? The service in this store is second to none. Asda colleagues stand out a lot over other chains in Britain because of their service. I have many staff who have been here throughout the 20 years of the store's history and they are passionate about customer service.

What is your most rewarding experience as store manager? The Asda Foundation agreed to give £10,000 to a local homeless charity, which effectively saved it from closure. I turned up dressed as Santa Claus with a cheque. They had no idea it was coming. There was not a dry eye in the place.