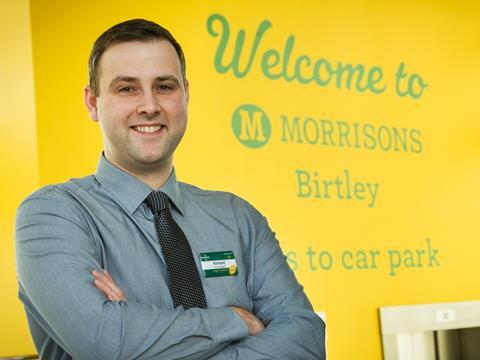 This is the second Grocer 33 win for the store in 13 months. How does it feel? Absolutely fantastic. I'm proud of the team, it's a credit to all the colleagues in the store that work so hard.

The Christmas countdown is on. What products are selling well? Our recently relaunched premium own-label range 'The Best' is popular, particularly the new party foods range such as The Chocolate Christmas Tree, and the Gin & Tonic Jelly Shots. We've had a really big uptake on customer orders. Our £10 The Best meal deal is also proving to be a massive success.

Some Morrisons' stores recently ran WIGIG promotions. Were you one of those? Yes. Instead of Black Friday we had a Black Five Days initiative. Every day we dropped a great deal such as three-litre bottles of Jack Daniels for £50, DIY UV gel nail kits for £20, and portable record players at £30. They proved a great hit, pardon the pun.

A score of 100% availability is impressive. What's your secret? Morrisons has launched a new automated ordering system, which we've had for four months. It's a sales-based system that takes away the elements of human error. Our availability is definitely much stronger on the back of it.

How do you ensure customers are receiving a great service? We've just had a big focus on twilight and the night shift operation. I've recently completed a week of twilight until midnight shifts to review what my late night customers are getting. This is to ensure we're delivering a consistent shopping experience no matter what time you shop. Providing a great basket in the morning and late at night is vital.

You scored highly for store standards, which must give you a sense of pride. Morrisons is a company that's renowned for being shopkeepers and food makers. We live by that ethos in everything we do. Making great food and keeping our shops to a high standard is pivotal.
Winner: Morrisons Birtley
Store manager: Richard Thornton
Size: 28,000 sq ft
Opened: April 2015
Market share: 8.7%
Nearest rivals: Tesco - 1 mile, Aldi - 1.7 miles, Sainsbury's - 1.8 miles, Lidl - 2.2 miles, Asda - 3.3 miles
Store data source: Analysis by CACI. Call the market planning group on 020 7602 6000