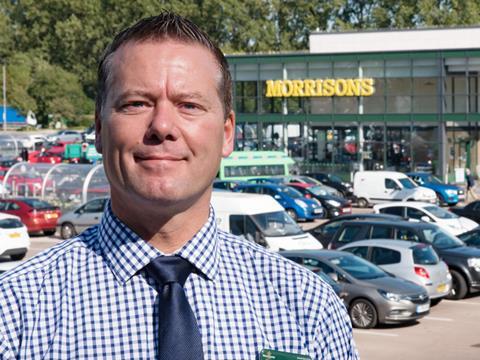 Food waste is dominating the news this week and David Potts has promised a "wonky autumn". How are customers reacting to the extended wonky fruit range? They can't get enough of it. We are selling wonky veg of all different kinds, from cucumbers to carrots and lettuces. Virtually every product line you can think of now has a wonky version and customers love it.

What else have you been doing to tackle food waste in store? We are trying to be much more efficient. Our in-store produce records are much more scientific than they used to be. We also have a link with the local Salvation Army, who come and collect surplus food from us on a regular basis.

How did the Stock up and Save promotions go? It was fantastic. There is always a bit of a lull after summer so we were able to dedicate our whole seasonal aisle to sell a selection of bulk products aimed at parents who may be in need of a bargain after an expensive summer. The big packs really went down well and we didn't have much left.

Do you have any new campaigns in store? We are this week launching an in-store marketing campaign to celebrate our Morrisons Makes It strapline, which really stresses our fresh food credentials. There are lots of posters using real people, skilled Morrisons food experts.

How much has the store benefited the local area, which had high unemployment, since it launched five years ago? We are now one of the biggest employers in the area, with 240 staff. We have whole families working in here - boyfriends, girlfriends, husbands. It's fantastic and that's why I'm so pleased to win this award. I'm so proud of my team.

You've only been at the store six months. What's the biggest improvement? I definitely think it's been customer service, which is our number one KPI. We've also done a great job at improving our availability.
Winner: Morrisons Cwmbran
Store manager: Tony Ware
Opened: 2013
Size: 40,000 sq ft
Market share: 11.0%
Nearest rivals: Iceland - 0.7 miles, Asda - 1.1 miles, Lidl - 1.1 miles, Aldi - 1.4 miles
Store data source: Analysis by CACI. Call the market planning group on 020 7602 6000