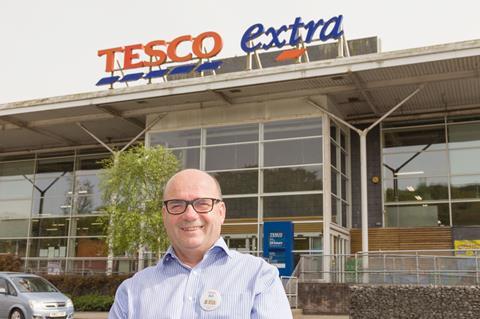 Winner: Tesco Caernarfon Road, Bangor
Store manager: Bill Maund
Opened: 2005
Size: 60,000 sq ft
Market share: 34.3%
Nearest rivals: Asda - 1.3 miles, Lidl - 1.4 miles, Morrisons - 1.4 miles, Waitrose - 3.1 miles
Store data source: Analysis by CACI. Call the market planning group on 020 7602 6000
How has the hot weather over Easter affected trade? It's been absolutely glorious weather here in North Wales - all of the barbecue products have been selling extremely well. We get a lot of customers who stop off on their way to their holidays because we are on that A55 main tourist route, and this year we certainly got the best weather we could hope for. It's been a big boost for trade in store but also for online sales as well.
How does being the dotcom hub for the North Wales coast affect your role? We also cover a lot of holiday sites and ­campsites along the coast right down as far as Harlech and Barmouth, which is a pretty huge area. Sometimes it can be difficult for our drivers to find some of these places as they can be quite remote, but they nearly always get there.

What have the big sellers been for barbecues in Bangor? We had some great three for £10 offers on meat. Local produce is extremely important all year round, and one of the most ­popular sellers were the Edwards of Conwy sausages, which are as good as you will get anywhere.

How do you view your role as store manager in the local community? We try to play as big a part in the community as we can. We are one of the biggest local employers, with more than 400 staff, so it's very important for the community. It's also the sort of place where the staff know the local people, so there is a great community feeling about it.

There has been a lot of concern about the environment lately - does the store do anything for the cause? We're very involved in reducing food waste and of course taking part in the company's target of having zero food waste. We also help local charities and environmental causes too. Every year some of our staff take part in the Snowdonia National Park clean up.