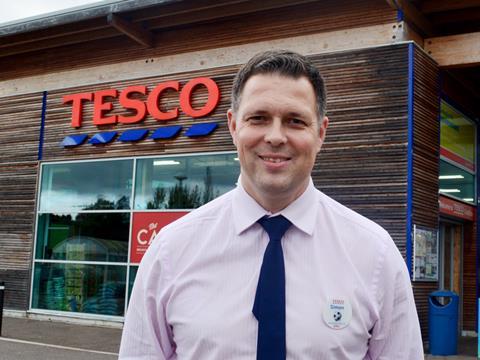 What do customers think of the big new price labels Tesco has rolled out? We are in the process of transferring to them. The reaction has been that they are much clearer, you can't miss them, as they are much bigger.

How are you using new technology in store? Five or six weeks ago, we had the latest self-service checkouts fitted. We are one of only a couple of stores fitted with them. They are much faster and less clunky than the previous machines. They are much more user friendly and it's made a real difference.

How have customers taken to the change? Customers are less fearful of the experience and the numbers using them has gone up week on week. At the same time we also had a scan as you shop system introduced, which is also a big new thing for Crediton. Some people need a bit of help to get going, but it's being used now by customers of all ages.

What about dotcom? We're getting a new dotcom compound at the store, opening in January. It's going to house a warehouse for deliveries in the local area and a fleet of eight vans. It will make a big difference to our capabilities as the south west has a huge demand for online services as stores are quite spread out and there are a lot of rural areas without shops. Previously this has been dealt with by stores such as Exeter and Tiverton.

Has there been any negative reaction to the 2 Sisters meat scandal? We are a farming community and our customers certainly aren't backwards in coming forwards, but I have not had any negative comments.

What do you think is the best thing about the store? I've been here 16 months and it's the most unique store I've worked in, in terms of its sense of community. It's by far the biggest store in the area but it's retained that local feel. A week ago, there was an incident in which a local family's thatched house burnt down. The children were left with just the pyjamas they were wearing. Our staff set up a Facebook page and within two days had raised £1,000 for the family as well as lots more in terms of food and other items donated. That shows you how my staff are, I'm very proud of them.
Winner: Tesco Crediton, Devon
Manager: Simon Anbany
Opened: 2009
Size: 42,000 sq ft
Market share: 50%
Nearest rivals: Morrisons - 0.5 miles, Co-op - 0.7 miles, Sainsbury's - 6.4 miles, Iceland - 6.5 miles, Aldi - 6.8 miles
Store data source: Analysis by CACI. Call the market planning group on 020 7602 6000