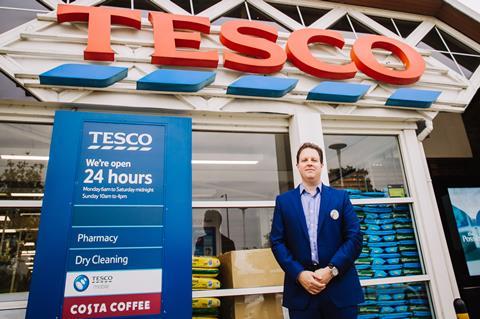 Winner: Tesco Leicester Road, Rugby
Store manager: Richard Rushton
Opened: 1986
Size: 50,000 sq ft
Market share: 22.3%
Nearest rivals: Iceland – 1.4 miles, Asda – 1.4 miles, Lidl – 2.6 miles, Sainsbury's – 3.4 miles
Store data source: Analysis by CACI. Call the market planning group on 020 7602 6000
How are you handling the heatwave? We are all geared up. We have warehouses full of pop and ice lollies. Tesco has been especially good at handling seasonable peaks, and we also have a certain amount of flexibility at store level about how we promote items.
What has grabbed your attention in the summer lineup? We've got some really great barbecue deals at the moment. We have a £25 barbecue set aimed at the barbecue connoisseurs, but we also have some really competitive deals for those not so serious about it.
What precautions do you make to protect staff from the heat? All our staff have been given a Tesco water bottle and encouraged to stay hydrated. Some of the trolley boys and people on the front door are being given extra breaks as they are particularly exposed to it. I was speaking to my trolley man and he calls it the 'Costa del Tesco tan'.
Tesco has been in the news for putting up prices – how competitive are you against your rivals? The one thing I would say is that Rugby has a huge amount of competition. Our competitiveness is absolutely fantastic and that is down to our pricing strategy with its focus on Exclusively at Tesco and Farm brands. I think we've got our prices absolutely right.
What are you most proud of with the store? I've been really pleased with the passion at store level to get food waste down. I've been really impressed with how the staff have taken the cause to heart.
Did you get on down for charity last week with the Dance Beats event? It was a great event. We were doing Mexican waves at the tills, doing the conga down the aisles and had a dance-off at the front of the store. We even had customers joining in and some of our staff went to Wembley where they helped break the Guinness World Record for the longest dance marathon relay for charity.