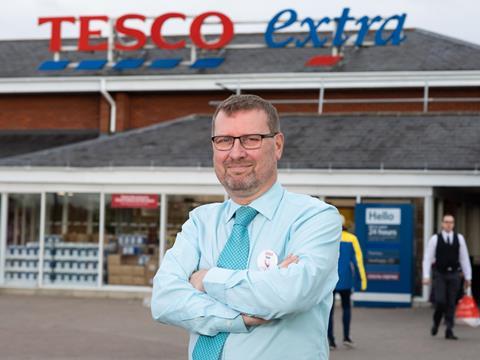 You scored 20/20 on availability. How do you achieve that? The process starts with great communication with our distribution teams, interaction with our head office ordering teams and in store managing our stock dynamically. I spend a lot of time on the sales floor with customers understanding what's important to them.

How big is Black Friday going to be in store? We find our customers like to shop Black Friday across the whole weekend and it really signals the start of the festive season. There'll be lots of competitive offers.

What is your favourite Tesco festive food product? I'm looking forward to not only the turkey but particularly the Crackling Gammon Joint with Maple & Bourbon Glaze. I've ordered this from the Festive Food to Order brochure.

What is your favourite non-food product? We've got a great family set of pyjamas, I'm trying to decide between the families of elves or the 'Rule Breaker' set.

Have you had any changes to the store of late? We've just completed a major in-store refurbishment where we changed fridges, counters and generally gave the store a real makeover. Pleased to say that we also have a brand new colleague room, so our colleagues have a better place to relax during their breaks.

Tesco has joined forces with WWF to reduce the environmental impact of products. How important do you think this issue is to your shoppers? I think it's really important to our customers that we act in a responsible way and work ethically. The announcement of our work with WWF will allow us to accelerate progress and deliver affordable, healthy, sustainable food for our customers.

What are you doing to reduce plastic? We have recycling stations and if you're buying online you can give your old plastic bags to the drivers at the door, and he'll take them away for recycling.
Winner: Tesco Northampton
Store manager: Ian Dunne
Opened: 1986
Size: 70,000 sq ft
Market share: 18.3%
Nearest rivals: Aldi - 1.3 miles, Sainsbury's - 1.8 miles, Lidl - 2.5 miles, Iceland - 2.5 miles
Store data source: Analysis by CACI. Call the market planning group on 020 7602 6000