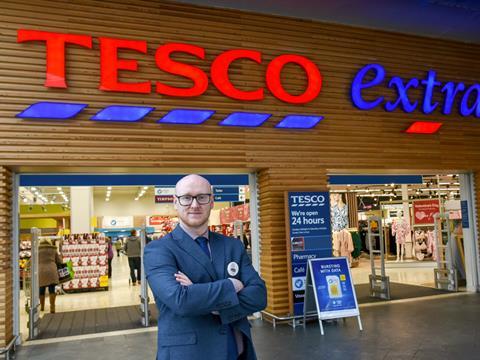 What is it like to manage such a massive store? It's one of the top three in the country and it's the flagship site, takings-wise. We're also next to an M&S and a Next, which is a real destination location. That said, if someone wants to walk to our beers wines and spirits aisle, it takes them a while, too.

Has the store had any improvements of late? We've recently extended our F&F range, with an extra 40 MODs. It's enabled us to add more products to the men's and kids ranges. F&F is performing very strongly.

What range of counters do you have and will the store be keeping them after last week's announcement of cuts? We have a hot deli, grab-and-go cheese, a pizza counter, cooked meats and fish. I think it will be down to individual stores's performance. Our store is one of the top three in the region for the performance of counters and the feedback we're getting from customers is that they want to [keep] them. We will take that feedback back to management but we don't know what will happen.

How did you handle the announcement when the news of job cuts was leaked in the press? I think it's about being honest. When the news broke it's something we were very quick to address although we weren't able to tell staff very much because a decision has not yet been taken. Staff seem to have taken it well.

Tesco also announced plans to cut down on the number of store layout changes. Has that affected the store yet? That is something we've been doing for a while. We've been trying not to flip the store around when possible and make sure that any changes are natural and subtle. Customers don't like it when stores keep changing their layouts.

Were you hit with last week's snow? It hit us badly on the Friday evening but the staff were absolutely fantastic. We had very few staff not make it in and had a few absolute heroes who walked two miles in the snow to get in to work. We also had instances of drivers who walked through the snow to deliver to people who were cut off.

Have any customers begun stockpiling for Brexit? I think there's been a little bit of it. There been some people taking an opportunity to make provision with one or two extra items but are we not seeing empty shelves.

Do you have any visitors from the military academy? Yes, we see a lot of army recruits in uniform. It means we have a lot of very smart-looking customers.
Winner: Tesco The Meadows, Sandhurst
Deputy store manager: Rob Smith
Opened: 1989
Size: 120,800
Market share: 18.8%
Nearest rivals: Lidl - 0.5 miles, Waitrose - 0.6 miles, Aldi - 0.6 miles, Morrisons - 2.3 miles
Store data source: Analysis by CACI. Call the market planning group on 020 7602 6000