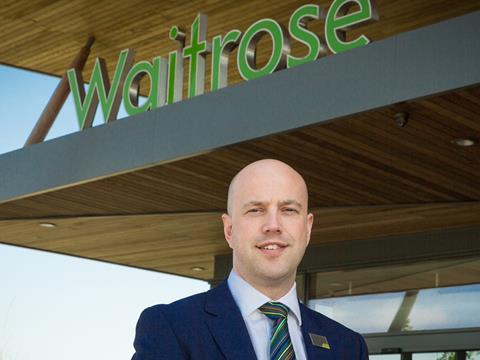 Your store was the first Waitrose branch to offer a juice bar. Any insights? Yes, we were the first juice bar and they've gone into double digits now. It's a fantastic counter and fits in with the strategic vision of driving foodservice in store. We see it being really popular when the weather is nice so we've been pretty busy this week. And because we've got indoor and outdoor seating, you can enjoy the juices on site.

I understand you recently introduced self-service tills into your store. Two weeks ago we put in self-service checkouts, which has completed the move towards offering alternative payment options. The feedback from customers in Swindon was that self-service tills were the one thing that was missing. Before, only customers using Quick Check could check out themselves.

How is Quick Check going? Are many people using the mobile app? The app has had a positive response. It's definitely growing because it's just so easy to use. What's really good is that, as a business, we've been focused on providing payment options for all customers, whether it be through the Quick Check handsets, the smartphone app, self-service checkouts or traditional payment.

It's been one year since Waitrose 1 launched. How is that going? Very well. It's going from strength to strength. It proved really popular when we launched last year and it's just growing further. I think the packaging really stands out and you can tell it's the top-range product because it shouts premium.

Waitrose is also continually developing its Pick Your Own Offers scheme. What response have you seen? From the feedback we've got, it's certainly something customers are using. We get quite a lot of customers talking to us about the offers they've picked in store. It's great to be able to offer a personalised benefit for customers.
Winner: Waitrose Mill Lane, Swindon
Store manager: Daniel Morehead
Size: 25,000 sq ft
Opened: 2014
Market share: 8.6%
Nearest rivals: Co-op - 0.7 miles, Sainsbury's - 0.9 miles, Iceland - 1.4 miles, Tesco - 1.5 miles
Store data source: Analysis by CACI. Call the market planning group on 020 7602 6000