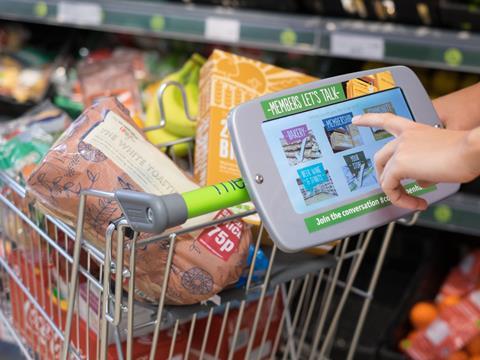 The Co-operative Group is rolling out hi-tech trolleys that allow shoppers to give the society instant feedback on stores.
It has attached a tablet device to trolley handles in selected stores that will ask shoppers questions as they shop on features such as store layout, ranges and products.
It will also ask shoppers for their views on issues such as sustainable food, youth unemployment and localism.
If shoppers do not have time to answer the questions, or do not use one of the trolleys, they can complete the questionnaire online or tweet their thoughts using a hashtag for the store.
"If we are to fulfil our ambition to be the UK's best local food retailer, it is really important that we know what our members think about our stores and act upon their feedback," said Co-op Group customer director Andrew Mann.
"The hi-tech trolleys not only make it easy for customers to tell us about their shopping experience but because the information is collated digitally we can access what they say almost instantly."
The society is also currently asking members for ideas on its future strategy via a recently launched online forum called Let's Talk.